William Maz, "The Bucharest Dossier"
Join William Maz at the East Hampton Library
For a Book Talk & Signing
FEATURING THEIR NEW BOOK The Bucharest Dossier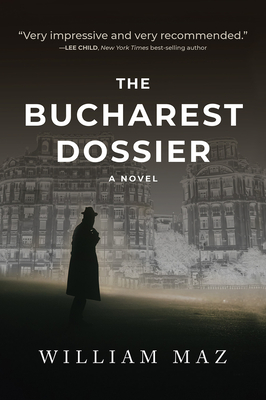 Internationally bestselling author of the Jack Reacher thrillers, Lee Child calls The Bucharest Dossier "very impressive, and very recommended" and Joan Baum of NPR's "Baum on Books" says "The Bucharest Dossier is suspenseful enough to make one forget the woes of the world for a while, and muse on the mythic draw of childhood innocence and love."
Bill Hefflin is a man apart—apart from life, apart from his homeland, apart from love
On the evening of the 1989 uprising in Romania, CIA analyst Bill Hefflin—a disillusioned Romanian expat—arrives in Bucharest at the insistence of his KGB asset. As Hefflin becomes entangled in the events of the bloody uprising, he is determined to track down the one responsible for his beloved professor's death and search for his childhood love, Pusha. On his dangerous mission through his past, nothing is as it seems. Can he find the answers before it's too late?
With the bloody events unfolding at blinding speed, Hefflin realizes the revolution is manipulated by outside forces, including his own CIA and Boris—the puppeteer who seems to be pulling all the strings of Hefflin's life.
William Maz is a graduate of Harvard University, Mount Sinai School of Medicine, and Yale residency. He was born in Bucharest, Romania, of Greek parents, and emigrated to the U.S. as a child. He developed a passion for writing fiction during his high school and undergraduate years, and went on to study writing at Harvard, the New School, The Writer's Studio in New York City, and with Gordon Lish. Now he writes full time, dividing time between his homes in East Hampton, New York City, and Pennsylvania. His debut novel, The Bucharest Dossier, was selected by the Chanticleer International Book Awards (CIBA) for the 2020 Grand Prize Winner in the Global Thriller category.
BookHampton will be onsite to sell copies of The Bucharest Dossier or you may purchase a copy below.
Event date:
Saturday, June 11, 2022 - 2:00pm EDT
Event address:
East Hampton Library
159 Main Street

$27.95

ISBN: 9781608094769
Availability: On Our Shelves; Typically Ships in 1 - 2 Days
Published: Oceanview Publishing - March 15th, 2022
---