Virtual: Theresa Trinder & Grant Snider, "There is a Rainbow"
Join us for a story of hope and comfort in difficult times
Order your copy of There Is A Rainbow and receive a signed bookplate*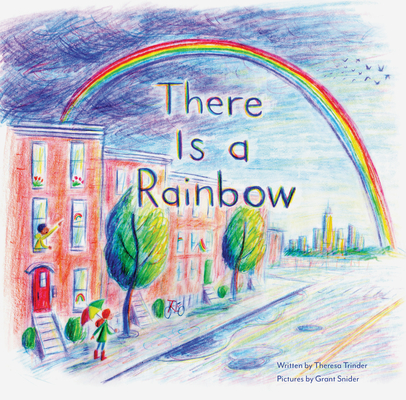 A hopeful picture book that reminds readers we are all connected. Sometimes we are separated by distance, sometimes by the way we feel. Even though the world is full of barriers that can make us feel alone, we are all just on one end of a rainbow—connected by all that color and light, there is always something, or someone, waiting for us on the other side!
Inspired by the multitude of rainbows found in the windows of homes around the world following the coronavirus lockdown, this uplifting picture book shares a message of hope and resilience that is truly timeless.
On the other side of a window, there is a neighbor.
On the other side of a sadness, there is a hug.
And on the other side of a storm, there is a rainbow.
Poetically told with a heartwarming message for some of life's most difficult moments, this book encourages readers to look past their immediate surroundings and find comfort, connection, and courage.
Theresa Trinder spent a decade at Hallmark Cards, where she wrote and edited children's books. She has also developed literacy curricula and has an MFA in Poetry. She was inspired to write this book by the rainbows made by her family during the COVID-19 Shelter in Place in Greenlawn, New York.
Grant Snider writes, draws, and lives in Wichita, Kansas. His first book, The Shape of Ideas, is a personal exploration of the joys and frustrations of the creative process. His work has appeared in The New York Times Book Review, The New Yorker, The Kansas City Star, The Best American Comics 2013, and across the internet as the popular strip Incidental Comics. Grant works as an orthodontist in his day job. You can often find him carrying a sketchbook, lost in his own thoughts.
Order your copy of There Is A Rainbow and receive a signed bookplate*
*while supplies last
Event date:
Thursday, February 18, 2021 - 4:00pm EST

$15.99

ISBN: 9781797211664
Availability: On Our Shelves; Typically Ships in 1 - 2 Days
Published: Chronicle Books - January 26th, 2021
---
Please consider purchasing a "ticket" to support BookHampton's virtual event series. A "choose your own price" ticket purchase of any amount greatly benefits our programming options.

Your support enables BookHampton to continue providing engaging, informative, and entertaining events for readers of all ages.

We are so grateful for your continued support!
---