Virtual: Tehlor Kay Mejia, "Paola Santiago and the Forest of Nightmares"
Rick Riordan Presents a thrilling sequel
starring science obsessed Paola Santiago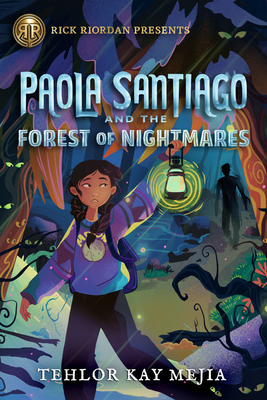 Six months after Paola Santiago confronted the legendary La Llorona, life is nothing like she'd expected it to be. She is barely speaking to her best friends, Dante and Emma, and what's worse, her mom has a totally annoying boyfriend. Even with her chupacabra puppy, Bruto, around, Pao can't escape the feeling that she's all alone in the world.
Pao has no one to tell that she's having nightmares again, this time set in a terrifying forest. Even more troubling? At their center is her estranged father, an enigma of a man she barely remembers. And when Dante's abuela falls mysteriously ill, it seems that the dad Pao never knew just might be the key to healing the eccentric old woman.
Pao's search for her father will send her far from home, where she will encounter new monsters and ghosts, a devastating betrayal, and finally, the forest of her nightmares. Will the truths her father has been hiding save the people Pao loves, or destroy them?
Once again Tehlor Kay Mejia draws on her Mexican heritage to tell a wild and wondrous story that combines creatures from folklore with modern-day challenges.
Tehlor Kay Mejia is an Oregon native in love with the alpine meadows and evergreen forests of her home state, where she lives with her daughter. When she's not writing, you can find her plucking at her guitar, stealing rosemary sprigs from overgrown gardens, or trying to make the perfect vegan tamale. She is the author of Paola Santiago and the River of Tears and the YA fantasy novels We Set the Dark on Fire and We Unleash the Merciless Storm.
Registered attendees will receive a link to the virtual event
Event date:
Thursday, August 5, 2021 - 6:30pm EDT

$16.99

ISBN: 9781368049344
Availability: On Our Shelves; Typically Ships in 1 - 2 Days
Published: Rick Riordan Presents - August 3rd, 2021
---
Please consider purchasing a "ticket" to support BookHampton's virtual event series. A "choose your own price" ticket purchase of any amount greatly benefits our programming options.

Your support enables BookHampton to continue providing engaging, informative, and entertaining events for readers of all ages.

We are so grateful for your continued support!
---