Virtual: Summer of Words & Pictures Read Aloud Book Tastings
Join us for this free virtual event.
Welcome to our Summer of Words and Pictures Book Tastings!
We want to share our love and joy of reading with everyone! Join us every Tuesday throughout the summer, as we "taste" a new book by reading aloud the first chapter live via Zoom! New books will be read each week. We'll share new releases, different genres, different authors, and staff favorites. Participants will receive emailed activities to fully enhance the experience. We can't wait to introduce you to your next favorite book!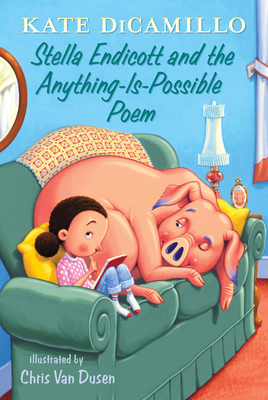 This Week's Book
Stella Endicott and the Anything-Is-Possible Poem
Metaphor alert! An ode to a certain pig kicks off one wild school day in Kate DiCamillo's latest stop on Deckawoo Drive.
Stella Endicott loves her teacher, Miss Liliana, and she is thrilled when the class is assigned to write a poem. Stella crafts a beautiful poem about Mercy Watson, the pig who lives next door — a poem complete with a metaphor and full of curiosity and courage.
But Horace Broom, Stella's irritating classmate, insists that Stella's poem is full of lies and that pigs do not live in houses. And when Stella and Horace get into a shouting match in the classroom, Miss Liliana banishes them to the principal's office.
Will the two of them find a way to turn this opposite-of-a-poem day around? In the newest spirited outing in the Deckawoo Drive series by Kate DiCamillo, anything is possible — even a friendship with a boy deemed to be (metaphorically speaking) an overblown balloon.
This program is recommended for families with children in grades K-2.
REGISTERED ATTENDEES WILL BE PROVIDED WITH A LINK TO THE VIRTUAL MEETING.
Event date:
Tuesday, July 28, 2020 - 11:00am EDT

$14.99
ISBN: 9781536201802
Availability: Usually Ships in 1-5 Days
Published: Candlewick - June 9th, 2020
---
Please consider a contribution of any amount to support BookHampton's virtual event series. 

Your support enables BookHampton to continue providing engaging, informative, and entertaining events for readers of all ages.

We are so grateful for your continued support!
---