Virtual: Shelli Johannes & Mike Moran, "Theo TheSaurus"
Join us for an afternoon of big words and big dinos
Order Theo Thesaurus and receive a complimentary signed bookplate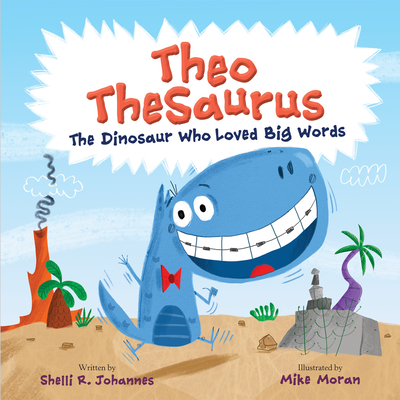 When a big vocabulary leads to big confusion, Theo TheSaurus learns that there are some things you can say without any words at all! This story is Fancy Nancy for dinosaur lovers.
Theo TheSaurus is a little dino who loves words--the bigger the better! And he's determined to share that love with his new classmates in his new school, no matter that they don't understand him at first. But when a trip to the athenaeum (also known as the library) becomes a visit to the auditorium instead, and a suggestion to play conceal-and-search (or hide-and-seek) only earns him looks of confusion, Theo realizes that misinterpretations can actually just be plain confusing! It's only when his newfound friends find a way to show they care that Theo learns that sometimes, there are things more important than words.
In this sweet and funny book filled with bright art, a brand-new dino character, and a full glossary of big words at the end, readers have tons of fun--and learn some new words along the way! It's Fancy Nancy for the dino-loving set!
Shelli R. Johannes (srjohannes.com) is the author of the Cece Loves Science series. An animal lover, she can often be found volunteering with animal conservation groups or rescuing strays off the side of the highway. Shelli lives in Atlanta with her husband, two kids, and a whole bunch of pets.
Registered attendees will receive a link to the virtual meeting
Event date:
Tuesday, June 15, 2021 - 4:00pm EDT

$17.99
ISBN: 9780593205518
Availability: On Our Shelves; Typically Ships in 1 - 2 Days
Published: Philomel Books - June 15th, 2021
---
Please consider purchasing a "ticket" to support BookHampton's virtual event series. A "choose your own price" ticket purchase of any amount greatly benefits our programming options.

Your support enables BookHampton to continue providing engaging, informative, and entertaining events for readers of all ages.

We are so grateful for your continued support!
---