Virtual: Sarah Albee, "Fairy Tale Science"
Discover the secret science behind your favorite stories
Sarah will be joined by Susannah Richards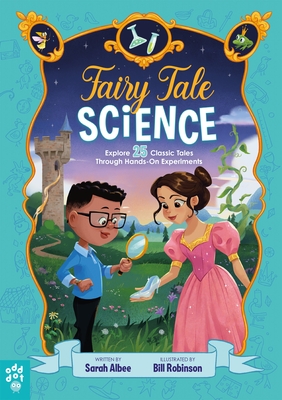 Explore the laws of physics, the principles of chemistry, and wonders of biology in this collection of classic stories with a hands-on STEM twist.
From Snow White to Chicken Little to Ali Baba and the Forty Thieves — read each story like a scientist!
Determine if a glass slipper can withstand an evening of ballroom dancing, explore the buoyancy of a magical frog, test the power of blowing air on a house, and so much more!
Find out what happens actually ever after!
Sarah Albee writes children's books for many age groups and under a number of pseudonyms. She has had three of her books appear on the New York Times bestseller list. Some of the books she's worked on are Accidental Archaeologists and Why'd They Wear That?
Before she began her career as a children's book writer and editor, Sarah was a newspaper cartoonist and a semi-professional basketball player. These days, she lives in Connecticut with her husband and three children.
Susannah Richards is a professor of education at Eastern Connecticut State University where she teaches courses in literacy and on literature for youth. She is active in the children's book world where she moderates panels, has served on award committees, coordinates events, and generally shares information about books and how to use them with teachers, librarians, parents, and children's book enthusiasts. She lives in a house of books and tweets about books and education @SussingOutBooks.
Registered attendees will receive a link to the virtual meeting
Event date:
Tuesday, September 7, 2021 - 6:30pm EDT

$18.99

ISBN: 9781250257611
Availability: Usually Ships in 1-5 Days
Published: Odd Dot - September 7th, 2021
---