Virtual: Sara Levine, "Eye by Eye"
Join us for an insightful event all about eyes!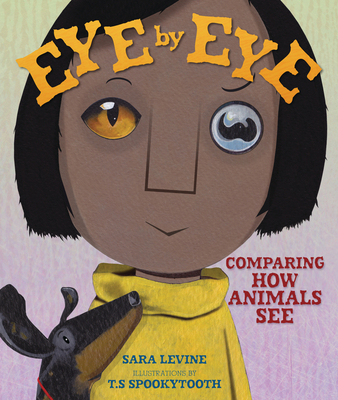 An innovative look at animal eyes from the creators of Bone by Bone, Tooth by Tooth, and Fossil by Fossil.
What kind of animal would you be if you had eigaht eyes? Or if your pupils were the shape of the letter W?
Keep an eye out for weird and surprising facts in this playful picture book, which brings together comparative anatomy with a guessing game format. See how your animal eyes are like--and unlike--those of starfish, spiders, goats, cuttlefish, owls, and slugs. Author Sara Levine and illustrator T.S Spookytooth present an insightful view of all eyes can do.
Sara Levine is an author, educator and veterinarian. Her science books for children include Bone by Bone: Comparing Animal Skeletons; Tooth by Tooth: Comparing Fangs, Tusks, and Chompers; Fossil by Fossil: Comparing Dinosaur Bones; Flower Talk: How Plants Use Color to Communicate, and Eye by Eye: Comparing Animal Peepers (2020).
Her books have received a number of awards including AAAS/Subaru SB&F Prize, Utah Beehive Book Award, Cook Prize finalist, Monarch Award master list, and Bank Street College Best Children's Book of the Year.
Event date:
Wednesday, September 2, 2020 - 6:00pm EDT

$26.65
ISBN: 9781541538382
Availability: Usually Ships in 1-5 Days
Published: Millbrook Press (Tm) - September 1st, 2020
---
Please consider purchasing a "ticket" to support BookHampton's virtual event series. A "choose your own price" ticket purchase of any amount greatly benefits our programming options.

Your support enables BookHampton to continue providing engaging, informative, and entertaining events for readers of all ages.

We are so grateful for your continued support!
---