Virtual: Robert Simonson, "Mezcal & Tequila Cocktails" in Conversation with Thad Vogler
Join us to explore the Golden Age of Agave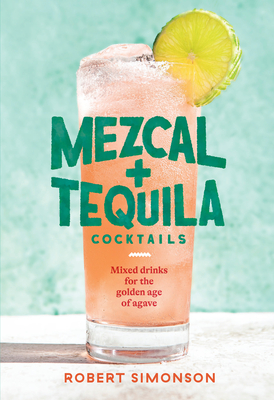 Indulge your thirst for new ways to drink tequila and mezcal with this collection of 60+ recipes for agave cocktails from New York Times spirits writer Robert Simonson.
Artisanal mezcal and tequila bars can be found in every major American city, and mezcal is the new "it" spirit, with more high-quality brands available than ever before. Mezcal and Tequila Cocktails is a comprehensive and straightforward guide to mixing cocktails using agave spirits, both for tequila and mezcal enthusiasts looking for creative ideas as well as those who just like to drink the stuff.
Robert Simonson gives us good, simple, doable recipes to enjoy agave spirits more often and in more varied ways. These versatile spirits pair with a broad range of flavors in nearly every classic cocktail formula, from the flip to the julep. The recipes here are easy to assemble, most only requiring three or four ingredients. From riffs on classics such as the Mezcal Mule and Oaxaca Old-Fashioned to new favorites such as Naked and Famous or Smoke and Ice, you'll discover how to use tequila and mezcal to create cocktails that highlight the smoky, edgy flavors of these unique and popular spirits.
Robert Simonson writes about cocktails, spirits, bars, and bartenders for the New York Times. He is the author of A Proper Drink, The Old-Fashioned, 3-Ingredient Cocktails, and The Martini Cocktail. His writings have appeared in Saveur, Food & Wine, GQ, Lucky Peach, Whisky Advocate, Imbibe, and PUNCH, where he is a contributing editor. A native of Wisconsin, he has lived in New York City since 1988.
Thad Vogler is the owner of Trou Normand and the James Beard Award-winning Bar Agricole in San Francisco. For nearly two decades, he worked to design, open, and manage the bars at more than 20 top Bay Area venues. In 2011, Vogler was named one of Forbes magazine's most interesting people. A global authority on craft spirits, he is consulted regularly by national and global press including the New York Times, Der Spiegel, the Washington Post, Sunset, Bon Appetit, and the Wall Street Journal. He has worked with numerous world-famous restaurateurs including Alice Waters, Charles Phan, and Francis Ford Coppola.
Event date:
Friday, May 7, 2021 - 5:00pm EDT

$18.99
ISBN: 9781984857743
Availability: On Our Shelves; Typically Ships in 1 - 2 Days
Published: Ten Speed Press - April 6th, 2021
---
Please consider purchasing a "ticket" to support BookHampton's virtual event series. A "choose your own price" ticket purchase of any amount greatly benefits our programming options.

Your support enables BookHampton to continue providing engaging, informative, and entertaining events for readers of all ages.

We are so grateful for your continued support!
---