Virtual: Rick Riordan Presents J.C. Cervantes, "The Shadow Crosser" and Shannon Messenger, "Keeper of the Lost Cities"
Join us for a night of myths and adventure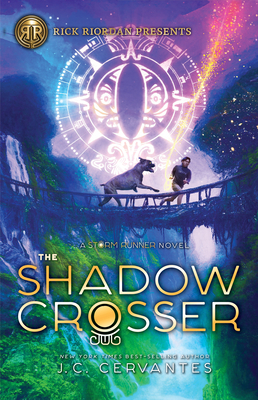 Best-selling author Rick Riordan presents J.C. Cervantes' epic finale to the Storm Runner trilogy, a tale of mystery, magic, and mayhem featuring gods from both Maya and Aztec mythology.
Zane Obispo has been looking forward to his training at the Shaman Institute for Higher Order Magic, and not only because it means he'll be reunited with his best friend, Brooks. Anything would be better than how he has spent the last three months: searching for the remaining godborns with a nasty demon who can sniff them out (literally). But when Zane tracks down the last kid on his list, he's in for a surprise: the "one" is actually a pair of twins, and they're trying to prevent a mysterious object from falling into the wrong hands.
After a shocking betrayal, Zane finds himself at SHIHOM sooner than expected. Even more shocking is the news that the Maya gods have gone missing. The bat god, Camazotz, and Ixkik' (aka Blood Moon) have taken them out of commission . . . and the godborns are their next target. The only thing the villains need now? The object that the twins possess.
Zane knows the godborns aren't strong enough yet to stand up to Zotz, Ixkik', and their army. There might be a way to save the gods, but it involves locating a magical calendar that can see across time and space . . . not to mention traveling more than thirty years into the past.
In The Shadow Crosser, Zane and his friends embark on their most treacherous mission yet--a mission that, with one blunder, could change history as we know it, and worse, destroy the universe.
J. C. Cervantes is the New York Times best-selling author of The Storm Runner and The Fire Keeper, the first two books in a fantasy adventure trilogy based on Maya mythology. Her first novel, Tortilla Sun, was a 2010 New Voices pick by the American Booksellers Association and was named to Bank Street's 2011 Best Book List. Jen grew up in San Diego and was fascinated by stories about Maya gods and magic.
---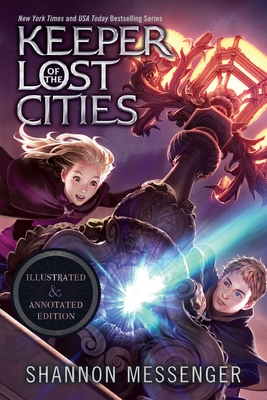 In this riveting series opener, a telepathic girl must figure out why she is the key to her brand-new world before the wrong person finds the answer first. This special edition contains beautiful black-and-white illustrations and commentary from Shannon Messenger!
Twelve-year-old Sophie has never quite fit into her life. She's skipped multiple grades and doesn't really connect with the older kids at school, but she's not comfortable with her family, either. The reason? Sophie's a Telepath, someone who can read minds. No one knows her secret—at least, that's what she thinks…
But the day Sophie meets Fitz, a mysterious (and adorable) boy, she learns she's not alone. He's a Telepath too, and it turns out the reason she has never felt at home is that, well…she isn't. Fitz opens Sophie's eyes to a shocking truth, and she is forced to leave behind her family for a new life in a place that is vastly different from what she has ever known.
But Sophie still has secrets, and they're buried deep in her memory for good reason: The answers are dangerous and in high-demand. What is her true identity, and why was she hidden among humans? The truth could mean life or death—and time is running out.
Shannon Messenger graduated from the USC School of Cinematic Arts, where she learned—among other things—that she liked watching movies much better than making them. She's studied art, screenwriting, and film production, but she realized her real passion was writing stories for children. She's the New York Times and USA TODAY bestselling author of the award-winning middle grade series, Keeper of the Lost Cities, as well as the Sky Fall series for young adults. Her books have been featured on multiple state reading lists, published in numerous countries, and translated into many different languages. She lives in Southern California with an embarrassing number of cats.
Event date:
Thursday, September 3, 2020 - 7:00pm EDT

$16.99
ISBN: 9781368052771
Availability: On Our Shelves; Typically Ships in 1 - 2 Days
Published: Rick Riordan Presents - September 1st, 2020
---

$9.99
ISBN: 9781534479845
Availability: On Our Shelves; Typically Ships in 1 - 2 Days
Published: Aladdin - August 4th, 2020
---
Please consider purchasing a "ticket" to support BookHampton's virtual event series. A "choose your own price" ticket purchase of any amount greatly benefits our programming options.

Your support enables BookHampton to continue providing engaging, informative, and entertaining events for readers of all ages.

We are so grateful for your continued support!
---