Virtual: Richard Haass, "The World: A Brief Introduction" in Conversation with Jeffrey Garten
Join Us for this virtual event
Richard Haass, President of the Council on Foreign Relations,
will discuss his new book with
Jeffrey Garten, of the Yale School of Management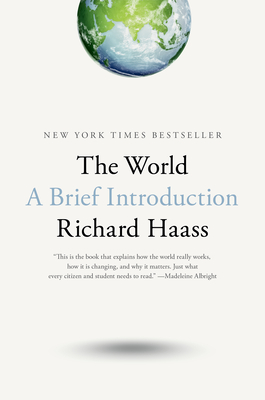 An invaluable primer that will help anyone, expert and non-expert alike, navigate a time in which many of our biggest challenges come from the world beyond our borders.
Like it or not, we live in a global era, in which what happens thousands of miles away has the ability to affect our lives. The World is designed to provide readers of any age and experience with the essential background and building blocks they need to make sense of this complicated and interconnected world. It will empower them to manage the flood of daily news. Readers will become more informed, discerning citizens, better able to arrive at sound, independent judgments. While it is impossible to predict what the next crisis will be or where it will originate, those who read The World will have what they need to understand its basics and the principal choices for how to respond.
In short, this book will make readers more globally literate and put them in a position to make sense of this era. Global literacy—knowing how the world works—is a must, as what goes on outside a country matters enormously to what happens inside. We are connected to this world in all sorts of ways. We need to better understand it, both its promise and its threats, in order to make informed choices, be it as students, citizens, voters, parents, employees, or investors. To help readers do just that, The World focuses on essential history, what makes each region of the world tick, the many challenges globalization presents, and the most influential countries, events, and ideas.
Dr. Richard Haass is president of the Council on Foreign Relations. An experienced diplomat and policymaker, he served as the senior Middle East adviser to President George H. W. Bush, as director of the Policy Planning Staff under Secretary of State Colin Powell, and as the U.S. envoy to both the Cyprus and Northern Ireland peace talks. A recipient of the Presidential Citizens Medal, the State Department's Distinguished Honor Award, and the Tipperary International Peace Award, he is also the author or editor of fourteen other books, including the best-selling A World in Disarray.
Jeffrey Garten is Dean Emeritus at the Yale School of Management. Previously he was a managing director of the Blackstone Group, and served in the Nixon, Ford, Carter, and Clinton administrations. In East Hampton, he is better known as the proud husband of the Barefoot Contessa.
A secure event link and password will be emailed
to ticket holders on the day of the event.
Event date:
Thursday, July 16, 2020 - 7:00pm EDT