Virtual: Peter L. W. Osnos, "An Especially Good View" in Conversation with Roxanne Coady
In more than five decades as a reporter, editor, and publisher, Peter Osnos has had an especially good view of momentous events and relationships with some of the most influential personalities of our time.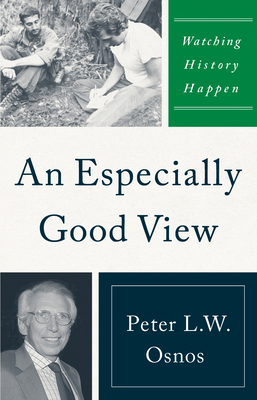 As a young journalist for I.F. Stone's Weekly, one of the leading publications of the turbulent 1960s and in 18 years at The Washington Post, he covered the war in Vietnam and Cambodia, the Soviet Union at the height of Kremlin power, Washington D.C. as National Editor, Swinging London in the '60s and Thatcher's Britain in the 1980s.
At Random House and the company he founded, PublicAffairs, he was responsible for books by four presidents - Carter, Clinton, Obama, and Trump; celebrated Washington figures including Robert McNamara, House Speaker Tip O'Neill and Vernon Jordan, first ladies Rosalynn Carter and Nancy Reagan, the billionaire George Soros, basketball superstars Kareem Abdul Jabbar and Magic Johnson, legendary spies, political dissidents, and the writers Molly Ivins and Peggy Noonan, among many others.
In this unusually wide-ranging memoir, Osnos uses a reporter's skills to portray historic events and encounters beginning with his parents' extraordinary World War II experiences escaping Europe to India, where he was born, to the present day. He shares unique portraits of the famous people he worked with and an insider's perspective of the news and publishing businesses. As he charts the evolution of his career and recent history, he also explores the influence and impact of family, character, curiosity, luck, resilience, a well-pressed suit and some unexpected wrinkles.
Peter L.W. Osnos was born in Bombay (now Mumbai) India on October 13, 1943. He worked as an assistant to the journalist I.F. Stone and joined the Washington Post in 1966. At the Post, Osnos served as a correspondent in Vietnam, the Soviet Union, and London. He was also the national and foreign editor. In 1984, Osnos joined Random House as a senior editor and later associate publisher as well as publisher of the Times Books imprint. In 1997, he founded PublicAffairs in partnership with the Perseus Books Group and served as publisher and editor at large until 2020. He was the founder of the Caravan Project on the development of digital and audio publishing, author of a weekly media column called Platform which was hosted by the Century Foundation and appeared on theatlantic.com and in 2020, launched Platform Books, LLC with his wife, Susan Sherer Osnos.
Roxanne J. Coady founded RJ Julia Booksellers in Madison, Connecticut in 1989, creating a business that is recognized as a national leader among independent booksellers. In 2009, Coady founded a personalized book subscription site, Just the Right Book. This site has a national reach and combines the intimacy of an independent bookstore with the digital marketplace.
In addition, Coady hosts a podcast available on iTunes, Just the Right Book, in which she interviews best-selling authors and people in the bookselling and publishing community.
Registered attendees will receive a link to the virtual meeting
Event date:
Thursday, June 10, 2021 - 5:00pm EDT

$25.95
ISBN: 9781735996806
Availability: On Our Shelves; Typically Ships in 1 - 2 Days
Published: Platform Books, LLC - June 1st, 2021
---
Please consider purchasing a "ticket" to support BookHampton's virtual event series. A "choose your own price" ticket purchase of any amount greatly benefits our programming options.

Your support enables BookHampton to continue providing engaging, informative, and entertaining events for readers of all ages.

We are so grateful for your continued support!
---