Virtual: Paul Vidich, "The Mercenary" in Conversation with Stephen Schiff
Join us for a Cold War game of cat and mouse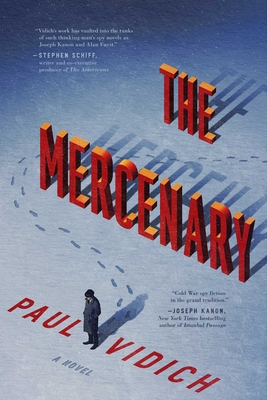 From acclaimed spy novelist Paul Vidich comes a taut new thriller following the attempted exfiltration of a KGB officer from the ever-changing—and always dangerous—USSR in the mid-1980s.
Moscow, 1985. The Soviet Union and its communist regime are in the last stages of decline, but remain opaque to the rest of the world—and still very dangerous. In this ever-shifting landscape, a senior KGB officer—code name GAMBIT—has approached the CIA Moscow Station chief with top secret military weapons intelligence and asked to be exfiltrated. GAMBIT demands that his handler be a former CIA officer, Alex Garin, a former KGB officer who defected to the American side.
The CIA had never successfully exfiltrated a KGB officer from Moscow, and the top brass do not trust Garin. But they have no other options: GAMBIT's secrets could be the deciding factor in the Cold War.
Garin is able to gain the trust of GAMBIT, but remains an enigma. Is he a mercenary acting in self-interest or are there deeper secrets from his past that would explain where his loyalties truly lie? As the date nears for GAMBIT's exfiltration, and with the walls closing in on both of them, Garin begins a relationship with a Russian agent and sets into motion a plan that could compromise everything.
Paul Vidich is the acclaimed author of An Honorable Man and The Good Assassin, and his fiction and nonfiction have appeared in the Wall Street Journal, LitHub, CrimeReads, Fugue, The Nation, Narrative Magazine, Wordriot, and others. He lives in New York.
Stephen Schiff is a multi-award-winning screenwriter, TV writer-producer, and journalist. In TV, he was a writer and executive producer of the FX series The Americans, which ran from 2013 to 2018. For his work there, Schiff won a Golden Globe, the Peabody Award, two Writers Guild of America Awards, ­the Critics' Choice Award, the Television Critics Association (TCA) Award, the American Film Institute (AFI) Award, and the Producers Guild (PGA) Award. He also received two Prime Time Emmy nominations and two additional Writers Guild of America Award nominations. His film work includes Lolita (1997), The Deep End of the Ocean (1999), True Crime (1999), Wall Street: Money Never Sleeps (2010), and American Assassin (2017). Previously, Schiff had an extensive career in journalism. A Pulitzer Prize finalist in Distinguished Criticism, Schiff was a staff writer at The New Yorker for ten years and was Vanity Fair's Critic-at-Large for nine years before that.
Event date:
Wednesday, February 10, 2021 - 7:00pm EST

$25.95
ISBN: 9781643136202
Availability: On Our Shelves; Typically Ships in 1 - 2 Days
Published: Pegasus Crime - February 2nd, 2021
---