Virtual: Mindfulness in "Total Meditation," Moderated by Kate McGetrick
Join us to explore mindfulness practices in Deepak Chopra's Total Meditation
This discussion will be moderated by Kate McGetrick of Rise Therapy & Wellness.
Dive deeply into Deepak Chopra's new book, Total Meditation to uncover specific resolutions you can achieve for meditation practices in your daily life! Include Mindfulness and Meditation in your daily routine. Whether you are a novice or expert, Total Meditation will help you achieve new dimensions of stress-free living!
Order your copy of Total Meditation today and receive a signed copy*
This is a book discussion only. The author will not be in attendance.
---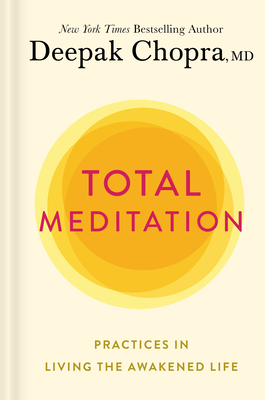 For the last thirty years, Deepak Chopra has been at the forefront of the meditation revolution in the West. His new book Total Meditation offers a complete exploration and reinterpretation of the physical, mental, emotional, relational, and spiritual benefits that this practice can bring.
"Stop. Take three deep breaths and smile everywhere in your body, observing what's happening in your body. Proceed now with kindness and understanding."
Join New York Times bestselling author Deepak Chopra as he guides you on how to wake up to new levels of awareness that will ultimately cultivate a clear vision, heal suffering in your mind and body, and help recover who you really are.
Deepak Chopra, MD, FACP, founder of The Chopra Foundation, a non-profit entity for research on well-being and humanitarianism, and Chopra Global, a modern-day health company at the intersection of science and spirituality, is a world-renowned pioneer in integrative medicine and personal transformation. He is the author of 90 books translated into over forty-three languages, including numerous New York Times bestsellers. Chopra is a Clinical Professor of Family Medicine and Public Health at the University of California, San Diego. TIME magazine has described Dr. Chopra as "one of the top 100 heroes and icons of the century."
---
Kate McGetrick is a Licensed Marriage and Family Therapist and owner of Rise Therapy and Wellness, LLC located in downtown Madison, CT. In addition to running a growing group practice, Kate is an adjunct professor at Southern Connecticut State University and has previously served on the board of the CTAMFT. Kate is passionate about mental health along with personal and relationship growth and healing. Her goal at Rise is to create an environment for the local community to gather, heal, and practice self care.
Rise Therapy and Wellness was founded on the principal that life is filled with obstacles and adversity, and no matter the challenge, there always exists the Rise. It is our intention and purpose to guide our clients on their personal Rise journey. We value the mind, body, spirit connection and the incredible abilities humans have to naturally heal mental and physical pain. Rise offers talk therapy for individuals, couples, families and groups as well as yoga, meditation, and other alternative methods of healing. For more information, visit our website at www.risetherapyandwellness.com
This is a book discussion only. The author will not be in attendance.
*while supplies last.
Event date:
Sunday, January 24, 2021 - 3:00pm EST

$24.00
ISBN: 9781984825315
Availability: On Our Shelves; Typically Ships in 1 - 2 Days
Published: Harmony - September 22nd, 2020
---
Please consider purchasing a "ticket" to support BookHampton's virtual event series. A "choose your own price" ticket purchase of any amount greatly benefits our programming options.

Your support enables BookHampton to continue providing engaging, informative, and entertaining events for readers of all ages.

We are so grateful for your continued support!
---