Virtual: Michael Shnayerson, "Bugsy Siegel" in Conversation with Peter Gethers
Join us for the rough and tumble story of Las Vegas' most notorious visionary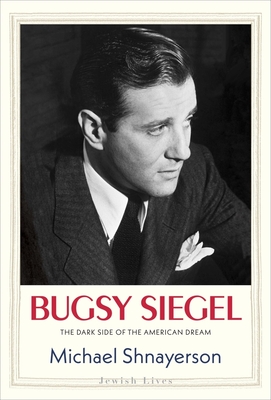 The story of the notorious Jewish gangster who ascended from impoverished beginnings to the glittering Las Vegas strip
In a brief life that led to a violent end, Benjamin "Bugsy" Siegel (1906–1947) rose from desperate poverty to ill-gotten riches, from an early-twentieth-century family of Ukrainian Jewish immigrants on the Lower East Side to a kingdom of his own making in Las Vegas. In this captivating portrait, author Michael Shnayerson sets out not to absolve Bugsy Siegel but rather to understand him in all his complexity.

Through the 1920s, 1930s, and most of the 1940s, Bugsy Siegel and his longtime partner in crime Meyer Lansky engaged in innumerable acts of violence. As World War II came to an end, Siegel saw the potential for a huge, elegant casino resort in the sands of Las Vegas. Jewish gangsters built nearly all of the Vegas casinos that followed.
Then, one by one, they disappeared. Siegel's story laces through a larger, generational story of eastern European Jewish immigrants in the early- to mid-twentieth century.
Michael Shnayerson became a contributing editor at Vanity Fair in 1986 and is the author of eight books on a range of nonfiction subjects, including Boom: Mad Money, Mega Dealers, and the Rise of Contemporary Art. He lives in New York City.
Peter Gethers has written 3 novels and 4 books books of non-fiction (including his bestselling trilogy about traveling the world with his extraordinary cat Norton) under his own name, and 5 thrillers under the pseudonym Russell Andrews. He is the co-author and co-producer of the hit off-Broadway show Old Jews telling Jokes, and co-creator of the Encores stage collaboration between Stephen Sondheim and Wynton Marsalis, A Bed and a Chair. He is a screenwriter, film producer, and TV writer/producer. In his longtime capacity as editor/publisher at Penguin Random House he has edited and published books by Tom Hanks, Carl Hiaasen, Jimmy Carter, Stephen Sondheim, Ricky Jay, Robert Hughes, Barbara Walters, Stephanie Danler, Nancy Silverton, Lidia Bastianich, and many others.
Event date:
Tuesday, February 23, 2021 - 7:00pm EST

$26.00

ISBN: 9780300226195
Availability: On Our Shelves; Typically Ships in 1 - 2 Days
Published: Yale University Press - February 9th, 2021
---
Please consider purchasing a "ticket" to support BookHampton's virtual event series. A "choose your own price" ticket purchase of any amount greatly benefits our programming options.

Your support enables BookHampton to continue providing engaging, informative, and entertaining events for readers of all ages.

We are so grateful for your continued support!
---