Virtual: Mary Alice Monroe, "The Summer of Lost and Found" in Conversation with Patti Callahan Henry
It's a summer of upheaval and perseverance
in the next chapter of the Beach House series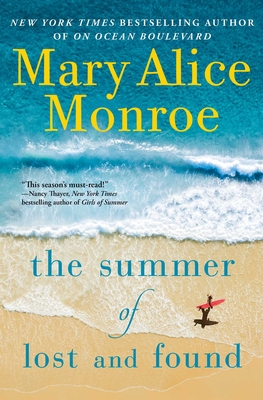 The New York Times bestselling Beach House series returns with this tender and compassionate novel following the Rutledge family as they face a summer of upheaval and change with perseverance, unity, and a dose of humor, discovering unexpected joys and lessons that will endure long past the season.
The coming of spring usually means renewal, but for Linnea Rutledge, Spring 2020 threatens stagnation. Linnea faces another layoff, this time from the aquarium she adores. For her—and her family—finances, emotions, and health teeter at the brink. To complicate matters, her new love interest, Gordon, struggles to return to the Isle of Palms from England. Meanwhile, her old flame, John, turns up from California and is quarantining next door. She tries to ignore him, but when he sends her plaintive notes in the form of paper airplanes, old sparks ignite. When Gordon at last reaches the island, Linnea wonders—is it possible to love two men at the same time?
Love in the time of the coronavirus proves challenging, at times humorous, and ever changing. Relationships are redefined, friendships made and broken, and marriages tested. As the weeks turn to months, and another sea turtle season comes to a close, Linnea learns there are more meaningful lessons learned during this summer than opportunities lost, that summer is a time of wonder, and that the exotic lives in our own back yards. In The Summer of Lost and Found, Linnea and the Rutledge family continue to face their challenges with the strength, faith, and commitment that has inspired fans for decades.
Mary Alice Monroe once again delves into the complexities of family relationships and brings her signature "sensitive and true" (— Dorothea Benton Frank, New York Times bestselling author) storytelling to this poignant and timely novel of love, courage, and resilience.
Mary Alice Monroe is the New York Times bestselling author of more than twenty books, including the Beach House series: The Beach House, Beach House Memories, Swimming Lessons, Beach House for Rent, and Beach House Reunion. She is a 2018 Inductee into the South Carolina Academy of Authors' Hall of Fame, and her books have received numerous awards, including the 2008 South Carolina Center for the Book Award for Writing, the 2014 South Carolina Award for Literary Excellence, the 2015 SW Florida Author of Distinction Award, the RT Lifetime Achievement Award, the International Book Award for Green Fiction, and the 2017 Southern Book Prize for Fiction. Her bestselling novel The Beach House is also a Hallmark Hall of Fame movie. She is the cocreator and cohost of the weekly web show and podcast Friends & Fiction. An active conservationist, she lives in the lowcountry of South Carolina. Visit her at MaryAliceMonroe.com.
Patti Callahan Henry is a New York Times bestselling author whose novels include The Favorite Daughter, The Bookshop at Water's End, Driftwood Summer, The Art of Keeping Secrets, When Light Breaks, and Where the River Runs. A recipient of the Harper Lee Award for Alabama's Distinguished Writer of the Year. She is a frequent speaker at luncheons, book clubs, and womens' groups.
Registered attendees will receive a link to the virtual meeting
Event date:
Monday, May 17, 2021 - 7:00pm EDT

$28.00
ISBN: 9781982148348
Availability: On Our Shelves; Typically Ships in 1 - 2 Days
Published: Gallery Books - May 11th, 2021
---

$26.00
ISBN: 9781984803757
Availability: On Our Shelves; Typically Ships in 1 - 2 Days
Published: Berkley - March 9th, 2021
---
Please consider purchasing a "ticket" to support BookHampton's virtual event series. A "choose your own price" ticket purchase of any amount greatly benefits our programming options.

Your support enables BookHampton to continue providing engaging, informative, and entertaining events for readers of all ages.

We are so grateful for your continued support!
---