Virtual: Mark Salter, "The Luckiest Man," in Conversation with Roxanne Coady
Join us for a discussion of John McCain's legacy
with one of his most trusted confidants, Mark Salter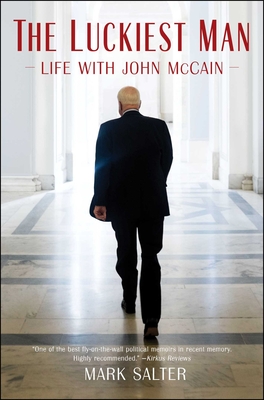 A deeply personal and candid remembrance of the late Senator John McCain from one of his closest and most trusted confidants, friends, and political advisors.
More so than almost anyone outside of McCain's immediate family, Mark Salter had unparalleled access to and served to influence the Senator's thoughts and actions, cowriting seven books with him and acting as a valued confidant. Now, in The Luckiest Man, Salter draws on the storied facets of McCain's early biography as well as the later-in-life political philosophy for which the nation knew and loved him, delivering an intimate and comprehensive account of McCain's life and philosophy.
Salter covers all the major events of McCain's life—his peripatetic childhood, his naval service—but introduces, too, aspects of the man that the public rarely saw and hardly knew. Woven throughout this narrative is also the story of Salter and McCain's close relationship, including how they met, and why their friendship stood the test of time in a political world known for its fickle personalities and frail bonds.
Through Salter's revealing portrayal of one of our country's finest public servants, McCain emerges as both the man we knew him to be and also someone entirely new. Glimpses of his restlessness, his curiosity, his courage, and sentimentality are rendered with sensitivity and care—as only Mark Salter could provide. The capstone to Salter's intimate and decades-spanning time with the Senator, The Luckiest Man is the authoritative last word on the stories McCain was too modest to tell himself and an influential life not soon to be forgotten.
Mark Salter has collaborated with John McCain on all seven of their books, including The Restless Wave, Faith of My Fathers, Worth the Fighting For, Why Courage Matters, Character Is Destiny, Hard Call, and Thirteen Soldiers. He served on Senator McCain's staff for eighteen years.
Roxanne J. Coady founded RJ Julia Booksellers in Madison, Connecticut in 1989, creating a business that is recognized as a national leader among independent booksellers. In 2009, Coady founded a personalized book subscription site, Just the Right Book. This site has a national reach and combines the intimacy of an independent bookstore with the digital marketplace. In addition, Coady hosts a weekly podcast available on iTunes, Just the Right Book, in which she interviews best-selling authors and people in the bookselling and publishing community.
Event date:
Tuesday, October 13, 2020 - 7:00pm EDT

$35.00
ISBN: 9781982120931
Availability: On Our Shelves; Typically Ships in 1 - 2 Days
Published: Simon & Schuster - October 13th, 2020
---
Please consider purchasing a "ticket" to support BookHampton's virtual event series. A "choose your own price" ticket purchase of any amount greatly benefits our programming options.

Your support enables BookHampton to continue providing engaging, informative, and entertaining events for readers of all ages.

We are so grateful for your continued support!
---