Virtual: Madeleine Henry, "The Love Proof" in Conversation with Jessica Ambrose
Join us on a search for meaning through physics, math, and love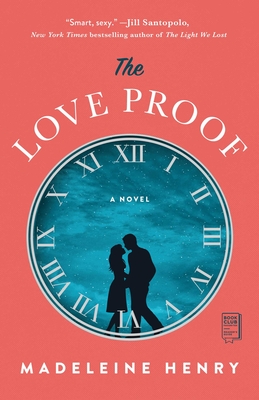 A brilliant physicist studying the nature of time embarks on a journey to prove that those we love are always connected to us, leading to surprising revelations in this fresh and unique love story.
Sophie Jones is a physics prodigy on track to unlock the secrets of the universe. But when she meets Jake Kristopher during their first week at Yale they instantly feel a deep connection, as if they've known each other before. Quickly, they become a couple. Slowly, their love lures Sophie away from school.
When a shocking development forces Sophie into a new reality, she returns to physics to make sense of her world. She grapples with life's big questions, including how to cope with unexpected change and loss. Inspired by her connection with Jake, Sophie throws herself into her studies, determined to prove that true loves belong together in all realities.
Spanning decades, The Love Proof is an unusual love story about lasting connection, time, and intuition. It explores the course that perfect love can take between imperfect people, and urges us to listen to our hearts rather than our heads.
Madeleine Henry is the author of two novels including Breathe In, Cash Out. She has appeared on NBC, WABC, The Jenny McCarthy Show, and Inspire Living. She has been featured in the New York Post, Parade, and Observer Media. Previously, she worked at Goldman Sachs and in investment management after graduating from Yale in 2014. She shares more information about her life on @MadeleineHenryYoga and about her upcoming third novel on @FoodFightBook.
After growing up in NYC and spending summers and weekends on the East End, Jessica Ambrose graduated from Boston College with a BA in Communications focused on radio and television. She started her career in radio as a traffic reporter for a KGAA, a small station in Seattle, WA, in '82 and eventually hosting her own show there. From there, she worked her own shifts for KLKT in Tahoe, CA, then Sacramento, CA, Bridgeport, CT and Stamford, CT. Now with three grown kids, 30 years of marriage, and a restaurant in Sag Harbor, she has returned to her radio life. Hosting "Lunch on the Deck" on 92.1 FM WLNG every Saturday, which also airs on SiriusXM Radio, she loves drawing on friendships in the community to bring together a mix of guests who she gets to know through their music choices and stories on the east end.
Order your copy of The Love Proof and receive a signed bookplate while supplies last
Event date:
Tuesday, February 9, 2021 - 6:00pm EST

$26.00
ISBN: 9781982142964
Availability: On Our Shelves; Typically Ships in 1 - 2 Days
Published: Atria Books - February 9th, 2021
---
Please consider purchasing a "ticket" to support BookHampton's virtual event series. A "choose your own price" ticket purchase of any amount greatly benefits our programming options.

Your support enables BookHampton to continue providing engaging, informative, and entertaining events for readers of all ages.

We are so grateful for your continued support!
---