Virtual: Mackenzi Lee, "Gamora & Nebula" in Conversation with Sam Maggs and Lauren Shippen
Don't miss this tale of sisterhood and Marvel heroes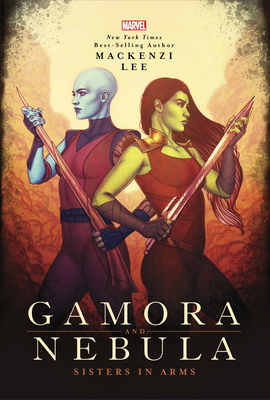 Gamora arrives on Torndune — a once-lush planet that has been strip-mined for the power source beneath its surface — with a mission: collect the heart of the planet.
She doesn't know who sent her, why they want it, or even what the heart of a planet looks like. But as the right hand and daughter of Thanos, and one of the galaxy's most legendary warriors, her job is not to ask questions. Her job is to do what she's told, no matter the cost.
What she doesn't know is that her sister Nebula is in hot pursuit. Nebula has followed Gamora to Torndune in hopes of claiming the planet's heart first and shaming her sister as vengeance for the part she played in Nebula losing her arm. While Gamora falls in with a group of miners attempting to overthrow the tyrannical mining corporation that controls their lives, Nebula allies herself with the Universal Church of Truth, whose missionaries wait on every street corner to recruit more followers and tithes for the Matriarch. Both sisters hope their alliance will give them access to one of the massive diggers capable of drilling to the center of the planet.
But the closer they get to the heart of the planet — and to each other — the closer they get to uncovering the truth of what brought them there and the role they may unknowingly be playing in a twisted competition with galactic consequences. A competition they can never win... unless they learn to trust each other.
And trust is the biggest lie in the galaxy.
Mackenzi Lee holds a BA in history and an MFA in writing for children and young adults from Simmons College. She is the New York Times best-selling author of the historical fantasy novels Loki: Where Mischief Lies; The Gentleman's Guide to Vice and Virtue, which won a 2018 Stonewall Honor Award and the New England Book Award; and its sequel, The Lady's Guide to Petticoats and Piracy. She is also the author of the nonfiction book Bygone Badass Broads, a collection of short biographies of forgotten women from history. In 2020, she was named one of Forbes's 30 Under 30 for her work in bringing minority narratives to historical fiction. When not writing, she works as an independent bookseller, drinks too much Diet Coke, and naps with her Saint Bernard, Queenie.
Sam Maggs is a bestselling writer of books, comics, and video games, including Marvel Action: Captain Marvel, The Unstoppable Wasp: Built on Hope, Tell No Tales, and Marvel's Spider-Man. You can usually find her as host at comic conventions and for geeky networks like the Nerdist.
Lauren Shippen, author of The Infinite Noise, is a writer best known for her work in fiction podcasts. She is the creator and sole writer of the popular audio drama, The Bright Sessions. She went on to executive produce The AM Archives and co-produce Passenger List before founding Atypical Artists, a company dedicated to audio storytelling. She wrote Marvels, an audio adaptation of the popular comic, released in 2019 by Marvel and Stitcher. Lauren was named one of Forbes's 2018 30 Under 30 in Media and one of MovieMaker Magazine's and Austin Film Festival's 25 Screenwriters to Watch. She was born in New York City and grew up in Bronxville, New York.
Registered attendees will receive a link to the virtual meeting
Event date:
Saturday, June 5, 2021 - 3:00pm EDT

$17.99
ISBN: 9781368022255
Availability: On Our Shelves; Typically Ships in 1 - 2 Days
Published: Marvel Press - June 1st, 2021
---
Please consider purchasing a "ticket" to support BookHampton's virtual event series. A "choose your own price" ticket purchase of any amount greatly benefits our programming options.

Your support enables BookHampton to continue providing engaging, informative, and entertaining events for readers of all ages.

We are so grateful for your continued support!
---