Virtual: Lou Diamond Phillips "The Tinderbox" in Conversation with Chris Bohjalian
From the imagination of actor Lou Diamond Phillips
comes an epic and unforgettable Science Fiction Fantasy tale.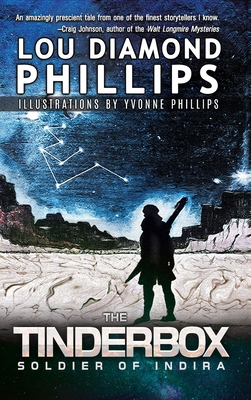 Two worlds at war will bring them together... or tear them apart...
Everson didn't want to be a soldier. His parents forced him to serve, as all good Indiran men should. The only problem? His first battle against their mortal enemies goes horribly wrong and he winds up stranded on the enemy planet.
Now, Everson has to survive in this strange new land where everyone is out to get him. Not to mention, the planet Mano is covered in unforgiving desert. And he's the target of traitors who want to use him in a dastardly plot to overthrow their mad king, Xander the Firm, by having him retrieve a piece of mysterious and powerful ancient technology known as the Tinderbox.
But everything changes during a chance encounter with the king's daughter, Allegra. Despite her station, she's in as grave of danger from her own people as Everson is. And though their peoples have been at odds for centuries, an unlikely spark forms between them.
As their worlds come crashing down around them, their forbidden love might be the only chance to end this war forever. Or, it might just be the doom of everyone...
Imagine the intrigue of Game of Thrones mixed with the star-crossed romance of Romeo and Juliet... but in space! Inspired by Hans Christian Andersen's famous fairy tale of the same name, Soldier of Indira is perfect for fans of Dune, Aurora Rising, and Stardust.
Lou Diamond Phillips is currently starring in the FOX series Prodigal Son, having recently starred on the acclaimed Netflix series, Longmire, based on the Walt Longmire mystery novels by Craig Johnson. Other recent credits include Amazon's Goliath, SyFy's Stargate Universe, CBS' Blue Bloods, and recurring roles on Fox's Brooklyn Nine-Nine and Netflix's The Ranch. He received an Emmy nomination for "Outstanding Actor in a Short Form Drama or Comedy" for his roles in both Amazon's Conversations in LA and History Channel's Crossroads of History. Recent film credits include Warner Brothers' The 33, Created Equal directed by Bill Duke, and Sundance Festival favorite Filly Brown, for which he was named Best Actor at the Imagen Awards.
Chris Bohjalian is the #1 New York Times best-selling author of twenty-one books, including The Red Lotus, Midwives, and The Flight Attendant, which will be an HBO Max limited series later this year starring Kaley Cuoco. His other books include The Guest Room; Close Your Eyes, Hold Hands; The Sandcastle Girls; Skeletons at the Feast; and The Double Bind. His novels Secrets of Eden, Midwives, and Past the Bleachers were made into movies, and his work has been translated into more than thirty-five languages. He is also a playwright. He lives in Vermont and can be found at chrisbohjalian.com.
Event date:
Wednesday, November 4, 2020 - 6:00pm EST

$24.99
ISBN: 9781949890532
Availability: Usually Ships in 1-5 Days
Published: Aethon Books, LLC - October 20th, 2020
---
Please consider purchasing a "ticket" to support BookHampton's virtual event series. A "choose your own price" ticket purchase of any amount greatly benefits our programming options.

Your support enables BookHampton to continue providing engaging, informative, and entertaining events for readers of all ages.

We are so grateful for your continued support!
---