Virtual: Leslie Bulion & Robert Meganck, "Spi-Ku" Book Launch
Join us for creepy crawly poems for Leslie Bulion's new book launch!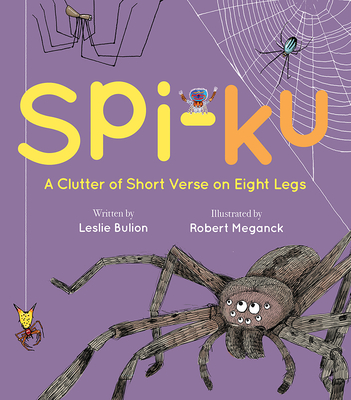 Leslie Bulion, award-winning educator favorite and master of science poetry, is back with a humorous exploration of the silk-spinning, bungee-jumping, hunting, trapping, trick-filled world of spiders!
Meet spiders that spit silk, roll like wheels, scuba dive, hide under trap doors, strum tunes, and so much more. Watch as they find mates, find prey…or find mates that become prey!
Award-winning poet Leslie Bulion and illustrator Robert Meganck team up again for this clutter (a collective noun for spiders) of Haiku and other short poems and humorously accurate illustrations that celebrate the amazing attributes of Araneae.
The book is also packed with helpful sidebars, call-outs, and backmatter, including a glossary of science terms, notes about the poetic forms, a list of common and scientific names, a spider-hunting adventure how-to, resources for further study, and a relative-size chart. A feast for science and animal fans and a bonanza for teachers and students interested in cross-curricular studies!
Leslie Bulion has graduate degrees in oceanography and social work. She has written parenting and education articles and is the author of several children's books.
Designer and illustrator Robert Meganck is a professor of illustration, graphic design, digital imaging, and color theory at Virginia Commonwealth University. He received a Bachelor of Fine Arts degree from the Center for Creative Studies in Detroit, MI and an MFA from Cranbrook Academy of Art in Bloomfield Hills, MI. He has received over 300 regional, national, and international awards for illustration and graphic design work. He lives in Virginia.
REGISTERED ATTENDEES WILL BE PROVIDED WITH A LINK TO THE VIRTUAL MEETING
Event date:
Monday, March 8, 2021 - 7:00pm EST
Please consider purchasing a "ticket" to support BookHampton's virtual event series. A "choose your own price" ticket purchase of any amount greatly benefits our programming options.

Your support enables BookHampton to continue providing engaging, informative, and entertaining events for readers of all ages.

We are so grateful for your continued support!
---