Virtual: Leonard Lauder, "The Company I Keep" in Conversation with Robert Barnett and Meredith Barnett
Join us for a night of priceless business and life wisdom
from the chairman emeritus of The Estée Lauder Companies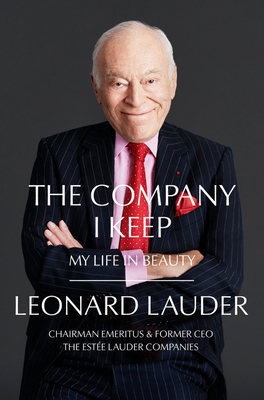 In his much-anticipated memoir, The Company I Keep: My Life in Beauty, Chairman Emeritus and former CEO of The Estée Lauder Companies Leonard A. Lauder shares the business and life lessons he learned as well as the adventures he had while helping transform the business his mother founded in 1946 in the family kitchen into the beloved brand and ultimately into the iconic global prestige beauty company it is today.
In its infancy in the 1940s and 50s, the company comprised a handful of products, sold under a single brand in just a few prestigious department stores across the United States. Today, The Estée Lauder Companies constitutes one of the world's leading manufacturers and marketers of prestige skin care, makeup, fragrance, and hair care products. It comprises more than 25 brands, whose products are sold in over 150 countries and territories. This growth and success was led by Leonard A. Lauder, Estée Lauder's oldest son, who envisioned and effected this expansion during a remarkable 60-year tenure, including leading the company as CEO and Chairman.
In this captivating personal account complete with great stories as only he can tell them, Mr. Lauder, now known as The Estée Lauder Companies' "Chief Teaching Officer," reflects on his childhood, growing up during the Great Depression, the vibrant decades of the post-World War II boom, and his work growing the company into the beauty powerhouse it is today. Mr. Lauder pays loving tribute to his mother Estée Lauder, its eponymous founder, and to the employees of the company, both past and present, while sharing inside stories about the company. The book offers keen insights on honing ambition, leveraging success, learning from mistakes, and growing an international company in an age of economic turbulence, uncertainty, and fierce competition.
Leonard A. Lauder was born in New York City in 1933, where he grew up and helped his mother as she founded what would become The Estée Lauder Companies in 1946. After serving in the U.S. Navy, Mr. Lauder officially joined The Estée Lauder Companies in 1958 and focused on building the company's research and development laboratory and helping to grow the business.
Mr. Lauder is Chairman Emeritus and former CEO of The Estée Lauder Companies Inc., where he currently serves as the senior member of the Board of Directors. In his over five decades of leadership, he transformed the company from a brand with eight products in one country, to a multi-brand, beloved global icon.
Robert Barnett is one of the premier authors' representatives in the world. His clients have included Barack Obama, Bill Clinton, George W. Bush, James Patterson, Hillary Rodham Clinton, Michelle Obama, Laura Bush, Bob Woodward, Mary Higgins Clark, Dick Cheney, Alan Greenspan, Katharine Graham, Ben Bernanke, Nikki Haley, Tim Russert, Barbra Streisand, Jack Welch, Khaled Hosseini, Bill Walton, Mitch McConnell, Jake Tapper, Phil Knight, several former U.S. Secretaries of State and Secretaries of the Treasury, numerous U.S. Senators and House members, Tony Blair of the United Kingdom, Queen Noor of Jordan, The Prince of Wales, Benazir Bhutto of Pakistan, and many others, including journalists, novelists, business leaders, sports stars, politicians, and others.
Meredith Barnett is a content strategist, writer, and brand expert who creates and cultivates brand narratives and positioning for individuals and organizations in the fashion, beauty, real estate, and interior design industries. Her clients range from individual executives to startups to established brands, and have included eBay, The Laundress, Tory Burch, Draper James, Cover FX, and others. She is a strategic communicator, an experienced public speaker, and a skilled writer with a keen sense for using brand storytelling to further customer engagement. She has an MBA from Harvard Business School and a B.A. from Brown University. She lives in Manhattan with her husband and three young children.
Registered attendees will receive a link to the virtual meeting
Event date:
Thursday, June 24, 2021 - 5:00pm EDT

$32.50
ISBN: 9780062990945
Availability: On Our Shelves; Typically Ships in 1 - 2 Days
Published: Harper Business - November 17th, 2020
---
Please consider purchasing a "ticket" to support BookHampton's virtual event series. A "choose your own price" ticket purchase of any amount greatly benefits our programming options.

Your support enables BookHampton to continue providing engaging, informative, and entertaining events for readers of all ages.

We are so grateful for your continued support!
---