Virtual: Lane Smith, "A Gift for Nana" in conversation with Bob Shea
Join Us for the Release of A Gift for Nana
Featuring Author Lane Smith & Bob Shea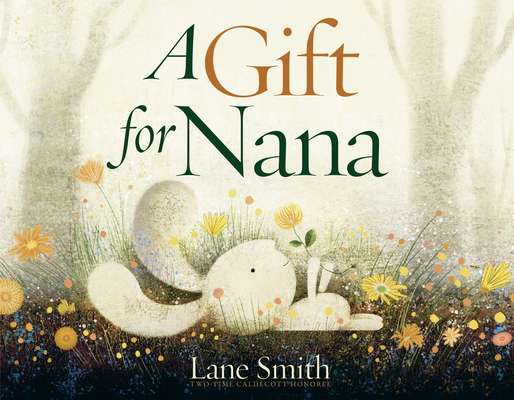 Two-time Caldecott Honor author/illustrator Lane Smith tells a whimsical story about a little rabbit searching for the best gift for someone very special.
A thoughtful little Rabbit sets out to find the perfect gift for his Nana. He knows she will love anything he brings her but Rabbit wants this gift to be extra special. As he travels on his quest, Rabbit encounters an assortment of creatures-a crow, a smiling full moon, a stickler (whatever that is), a big fish, and a volcano. Each is certain they offer the best advice but nothing they suggest seems right for his Nana. It's not until Rabbit reaches the highest peak, that he finds exactly what he's been searching for.
The award -winning illustrator of bestsellers including Penguin Problems and Giraffe Problems, brings originality and gentle humor to a story that parents and grandparents will be sharing with their children for years to come.
Lane Smith is the author/illustrator of several award-winning and bestselling books for children. Five of his titles have won the New York Times Best Illustrated Book Award. He is the illustrator of Penguin Problems, Giraffe Problems, and Cat Problems,
all by Jory John. Lane Smith lives in Connecticut with his wife Molly Leach, an award-winning graphic designer. Find out more at lanesmithbooks.com.
Bob Shea has created many hilarious books for young people, including Crash, Splash or Moo!, the popular Dinosaur Vs. series, Unicorn Thinks He's Pretty Great, Unicorn is Maybe Not so Great After All, and the early readers featuring Ballet Cat. He has also written stories such as Who Wet My Pants?, illustrated by Zachariah OHora. He lives in Madison, Connecticut and invites you to visit him at bobshea.com.
A ZOOM LINK WILL BE EMAILED TO REGISTERED ATTENDEES ON THE DAY OF THE EVENT
Event date:
Tuesday, May 10, 2022 - 5:30pm EDT