Virtual: Kristin van Ogtrop, "Did I Say That Out Loud?" in Conversation with Zibby Owens
Join us for an insightful take on weathering middle age with grace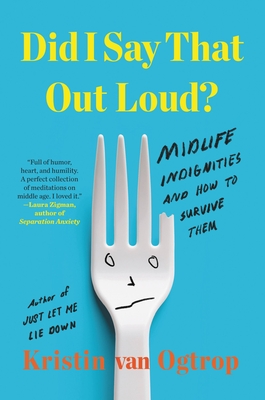 Do you hate the term "middle age?" So does Kristin van Ogtrop, who is still trying to come up with a less annoying way to describe those years when you find yourself both satisfied and outraged, confident and confused, full of appreciation but occasional disdain for the world around you.
Like an intimate chat with your best friend, this mostly funny, sometimes sad, always affirming volume from longtime magazine journalist van Ogtrop is a celebration of that period of life when mild humiliations are significantly outweighed by a self-actualized triumph of the spirit. Finally!
Featuring stories from her own life, as well as anecdotes from her unwitting friends and family, van Ogtrop encourages you to laugh at the small irritations of midlife: neglectful children, stealth insomnia, forks that try to kill you, t.v. remotes that won't find Netflix, abdominal muscles that can't seem to get the job done. But also to acknowledge the things you may have lost: innocence, unbridled optimism, smooth skin. Dear friends. Parents. It's all here: the sublime and the ridiculous, living together in the pages of this book as they do in your heart, like a big messy family, in this no-better-term-for-it middle age.
Kristin van Ogtrop is the author of Just Let Me Lie Down: Necessary Terms for the Half-Insane Working Mom. The former longtime editor-in-chief of Real Simple and "The Amateur" columnist for Time, she is a literary agent at InkWell Management. Her writing has appeared in countless publications, and the New York Times bestselling collection, The Bitch in the House. She is a wife and mother of three, but sometimes loves her dogs more than anybody else.
Zibby Owens is the host of award-winning literary podcast Moms Don't Have Time to Read Books and a new podcast, Moms Don't Have Time to Lose Weight. Zibby ran an author salon and hosted book fairs pre-pandemic. During lockdown, she hosted two Instagram Live talk shows, Z-IGTV and KZ Time, and started Zibby's Virtual Book Club. She has appeared on the BBC, CBS This Morning, and many local news outlets. She is a regular contributor to Good Morning America online and to the Washington Post. Zibby was dubbed "NYC's most important book-fluencer" by Vulture. She currently lives in New York with her husband and four kids.
Event date:
Wednesday, April 28, 2021 - 6:00pm EDT

$28.00
Email or call for price.
ISBN: 9780316497497
Published: Little, Brown Spark - April 13th, 2021
---

$24.99

ISBN: 9781510765962
Availability: Usually Ships in 1-5 Days
Published: Skyhorse - February 16th, 2021
---
Please consider purchasing a "ticket" to support BookHampton's virtual event series. A "choose your own price" ticket purchase of any amount greatly benefits our programming options.

Your support enables BookHampton to continue providing engaging, informative, and entertaining events for readers of all ages.

We are so grateful for your continued support!
---