Virtual: Kate Morton, "Homecoming" in conversation with Patti Callahan Henry
Join us on Zoom for the
Virtual Launch of Kate Morton's Homecoming.
RJ Julia Booksellers, Brome Lake Books, along with Mariner Books and Simon & Schuster Canada, are proud to present the North American launch of Homecoming by award-winning, New York Times bestselling author Kate Morton.
---
THANK YOU FOR YOUR INTEREST. TICKET SALES HAVE NOW CLOSED.
---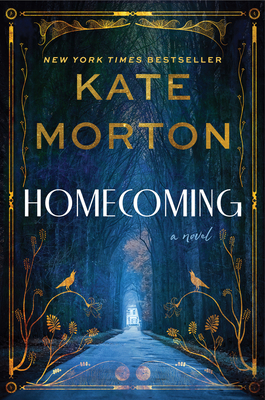 The highly anticipated new novel from the New York Times bestselling author of The Clockmaker's Daughter, a sweeping saga with a thrilling mystery at its heart tracing a shocking crime whose effects echo across continents and generations.
Adelaide Hills, Christmas Eve, 1959: At the end of a scorching hot day, beside a creek in the grounds of the grand and mysterious mansion, a local delivery man makes a terrible discovery. A police investigation is called and the small town of Tumbeela becomes embroiled in one of the most shocking and perplexing murder cases in the history of South Australia.
Sixty years later, Jess is a journalist in search of a story. Having lived and worked in London for almost twenty years, she now finds herself laid off from her full-time job and struggling to make ends meet. A phone call out of nowhere summons her back to Sydney, where her beloved grandmother, Nora, who raised Jess when her mother could not, has suffered a fall and been raced to the hospital.
Nora has always been a vibrant and strong presence: decisive, encouraging, young beyond her years. When Jess visits her in the hospital she is alarmed to find her grandmother frail and confused; it's even more alarming to hear from Nora's housekeeper that Nora had been distracted in the weeks before her accident, and that she fell on the steps to the attic – the one place Jess was forbidden from playing when she was small.
At a loose end in Nora's house, Jess does some digging of her own. In Nora's bedroom, she discovers a true crime book, chronicling the police investigation into a long-buried tragedy: the Turner Family Tragedy of Christmas Eve, 1959. It is only when Jess skims through the book that she finds a shocking connection between her own family and this once-infamous crime – a crime that has never been resolved satisfactorily. And for a journalist without a story, a cold case might be the best distraction she can find…
An epic novel that spans generations, Homecoming asks what we would do for those we love, and how we protect the lies we tell. It explores the power of motherhood, the corrosive effects of tightly held secrets, and the healing nature of truth. Above all, it is a beguiling and immensely satisfying novel from one of the finest writers working today.
Patti Callahan Henry is the New York Times and USA TODAY bestselling author of several novels, including Surviving Savannah and Becoming Mrs. Lewis. She is the recipient of the Christy Award, the Harper Lee Award for Alabama's Distinguished Writer of the Year Award, and the Alabama Library Association Book of the Year. She is the cohost and cocreator of the popular weekly online live web show and podcast Friends and Fiction. A full-time author and mother of three, she lives in Alabama and South Carolina with her family. Find out more at PattiCallahanHenry.com.
THANK YOU FOR YOUR INTEREST. TICKET SALES HAVE NOW CLOSED.
---
Event date:
Tuesday, April 4, 2023 - 7:00pm EDT

$28.99

ISBN: 9781668011836
Availability: On Our Shelves; Typically Ships in 1 - 2 Days
Published: Atria Books - May 2nd, 2023
---