Virtual: Julia's Story Time & Yoga Jamboree
Join us for our first Julia's Story Time & Yoga Jamboree!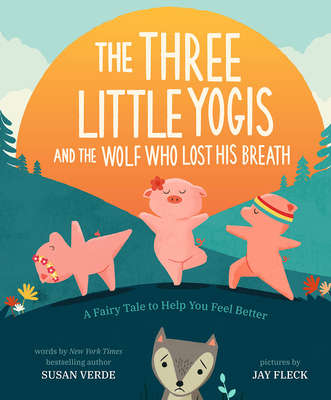 Julia will be reading The Three Little Yogis and the Wolf who Lost His Breath. Why this book? Julia loves how it emphasizes the importance of feelings and how we can use our breath and movement to help move through all the many feelings that we may have.
Julia plans to read the book and teach some Yoga poses to everyone who joins her.
Once upon a time there lived a wolf who lost his huff and his puff. It was a BIG, BAD problem!
One morning, the wolf came upon a peaceful little yogi doing sun salutations. The wolf wanted to huff and puff and blooow her hut down into a big pile of straw. But instead the yogi suggested, "Let's meditate on that."
Soon the wolf met a second yogi, and then a third. He may have lost his huff and puff—but with the help of three new yogi friends, can the wolf find his breath?
Julia is thirteen and lives in Brooklyn with her parents, her two sisters and her beloved labradoodle, Riesling. Julia is entering eighth grade where she participates in musical theatre, debate, gardening and the baking club. This past year, she volunteered every Sunday at the Kingsbay Y in Sheepshead Bay Brooklyn working at their Sunday Funday program for kids with special needs and has raised money to provide a special needs art studio to the Y. In her spare time, Julia loves hiking, biking, skiing, baking, and most of all READING. Julia's favorite books of all time are The War That Saved My Life by Kimberly Brubaker Bradley, I am Malala by Malala Yousafzai and the Percy Jackson series by Rick Riordan. Julia has many younger cousins and loves reading to them whenever they get together.
Event date:
Thursday, June 25, 2020 - 10:30am EDT

$16.99
ISBN: 9781419741036
Availability: On Our Shelves Now
Published: Harry N. Abrams - May 5th, 2020
---