Virtual: Janice Nimura, "The Doctors Blackwell" in Conversation with Roxanne Coady
Join us for a night of women's history and medical pioneers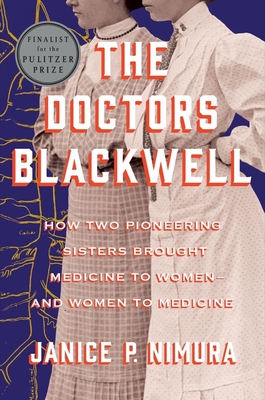 Elizabeth Blackwell believed from an early age that she was destined for a mission beyond the scope of "ordinary" womanhood.
Though the world at first recoiled at the notion of a woman studying medicine, her intelligence and intensity ultimately won her the acceptance of the male medical establishment. In 1849, she became the first woman in America to receive an M.D. She was soon joined in her iconic achievement by her younger sister, Emily, who was actually the more brilliant physician.
Exploring the sisters' allies, enemies, and enduring partnership, Janice P. Nimura presents a story of trial and triumph. Together, the Blackwells founded the New York Infirmary for Indigent Women and Children, the first hospital staffed entirely by women. Both sisters were tenacious and visionary, but their convictions did not always align with the emergence of women's rights—or with each other. From Bristol, Paris, and Edinburgh to the rising cities of antebellum America, this richly researched new biography celebrates two complicated pioneers who exploded the limits of possibility for women in medicine. As Elizabeth herself predicted, "a hundred years hence, women will not be what they are now."
Janice P. Nimura is the winner of a 2017 Public Scholar award from the National Endowment for the Humanities and the author of Daughters of the Samurai: A Journey from East to West and Back, a New York Times Notable Book. She lives in New York City.
Roxanne J. Coady founded RJ Julia Booksellers in Madison, Connecticut in 1989, creating a business that is recognized as a national leader among independent booksellers. In 2009, Coady founded a personalized book subscription site, Just the Right Book. This site has a national reach and combines the intimacy of an independent bookstore with the digital marketplace.
In addition, Coady hosts a weekly podcast available on iTunes, Just the Right Book, in which she interviews best-selling authors and people in the bookselling and publishing community.
Event date:
Wednesday, March 31, 2021 - 7:00pm EDT

$27.95
ISBN: 9780393635546
Availability: On Our Shelves; Typically Ships in 1 - 2 Days
Published: W. W. Norton & Company - January 19th, 2021
---
Please consider purchasing a "ticket" to support BookHampton's virtual event series. A "choose your own price" ticket purchase of any amount greatly benefits our programming options.

Your support enables BookHampton to continue providing engaging, informative, and entertaining events for readers of all ages.

We are so grateful for your continued support!
---