Virtual: Janae Marks, "A Soft Place to Land" in Conversation with Lisa Moore Ramee
Join us for a new novel from the bestselling author of
From the Desk of Zoe Washington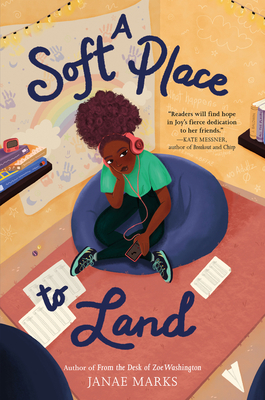 Joy Taylor has always believed home is the house she lived in her entire life. But then her dad lost his job, and suddenly, home becomes a tiny apartment with thin walls, shared bedrooms, and a place for tense arguments between Mom and Dad. Hardest of all, Joy doesn't have her music to escape through anymore. Without enough funds, her dreams of becoming a great pianist — and one day, a film score composer — have been put on hold.
A friendly new neighbor her age lets Joy in on the complex's best-kept secret: the Hideout, a cozy refuge that only the kids know about. And it's in this little hideaway that Joy starts exchanging secret messages with another kid in the building who also seems to be struggling, until — abruptly, they stop writing back. What if they're in trouble?
Joy is determined to find out who this mystery writer is, fast, but between trying to raise funds for her music lessons, keeping on a brave face for her little sister, and worrying about her parents' marriage, Joy isn't sure how to keep her own head above water.
Janae Marks graduated from the New School with an MFA in writing for children. When she isn't writing fiction, she's spending time with her husband and daughter at home in Connecticut. From the Desk of Zoe Washington is her debut novel. Visit Janae online at www.janaemarks.com.
Lisa Moore Ramée was born and raised in Los Angeles, and she now lives in the Bay Area of California, with her husband, two kids, and two obnoxious cats. She is the author of A Good Kind of Trouble and Something to Say. You can visit her online at www.lisamooreramee.com.
Registered attendees will receive a link to the virtual meeting.
Event date:
Tuesday, September 14, 2021 - 7:00pm EDT

$16.99

ISBN: 9780062875877
Availability: On Our Shelves; Typically Ships in 1 - 2 Days
Published: Katherine Tegen Books - September 14th, 2021
---