Virtual: Jamie Brenner, "Blush" in Conversation with Zibby Owens
Join us for an outrageous night of passion and family dynamics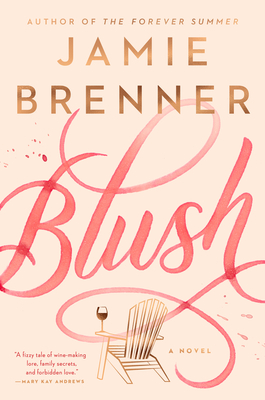 From acclaimed author Jamie Brenner comes a stunning new novel about three generations of women who discover that the scandalous books of their past may just be the key to saving their family's future.
For decades, the Hollander Estates winery has been the premier destination for lavish parties and romantic day trips on the North Fork of Long Island. But behind the lush vineyards and majestic estate house, the Hollander family fortunes have suffered and the threat of a sale brings old wounds to the surface. For matriarch Vivian, she fears that this summer season could be their last—and that selling their winery to strangers could expose a dark secret she's harbored for decades. Meanwhile, her daughter, Leah, who was turned away from the business years ago, finds her marriage at a crossroads and returns home for a sorely needed escape. And granddaughter Sadie, grappling with a crisis of her own, runs to the vineyard looking for inspiration.
But when Sadie uncovers journals from Vivian's old book club dedicated to scandalous novels of decades past, she realizes that this might be the distraction they all need. Reviving the "trashy" book club, the Hollander women find that the stories hold the key to their fight not only for the vineyeard, but for the life and love they've wanted all along.
Blush is a bighearted story of love, family, and second chances, and an ode to the blockbuster novels that have shaped generations of women.
Jamie Brenner is the author of five novels, including The Forever Summer and The Wedding Sisters. She grew up in suburban Philadelphia on a steady diet of Jackie Collins and Judith Krantz novels, and later moved to New York City to live like the heroines of her favorite books. Jamie now divides her time between Philadelphia and Provincetown.
Zibby Owens is the CEO of Moms Don't Have Time To, a media company she founded featuring podcasts, publications, and communities. Zibby hosts the award-winning podcast Moms Don't Have Time to Read Books and Moms Don't Have Time to Lose Weight. She is the author/editor of the anthology Moms Don't Have Time To: A Quarantine Anthology, all proceeds of which go to the Susan Felice Owens Program for Covid-19 Vaccine Research in honor of her late mother-in-law. She is the Editor in Chief of Moms Don't Have Time to Write, a Medium Publication, and founder of The Zibby Awards, celebrating the overlooked parts of books. She also founded the Moms Don't Have Time To Fellowship.
Named "NYC's Top Book-fluencer" by Vulture and on Oprah's list of top podcasts two years in a row, Zibby is a frequent contributor to Good Morning America, The Washington Post, Good Day LA and other media outlets. She has two children's books forthcoming from Flamingo, a Penguin Random House imprint, and another anthology, Moms Don't Have Time to Have Kids, debuting November 2, 2021. Zibby currently lives in New York with her husband, Kyle Owens of Morning Moon Productions, and her four children, ages 6 to 13. She always has a book nearby.
Registered attendees will receive a link to the virtual meeting
Event date:
Tuesday, June 22, 2021 - 5:00pm EDT