Virtual: Harold Koplewicz, "The Scaffold Effect" in Conversation with Wes Moore
Join us for a night of emotional philosophy and parenting strategies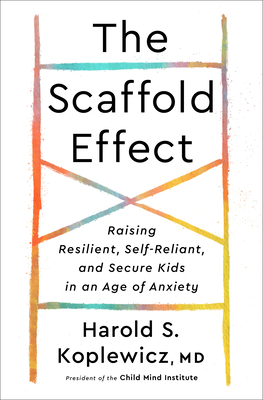 Prevent and counteract the general anxiety and emotional fragility prevalent in children and teenagers today with a new parenting philosophy and strategies that give children the tools to flourish on their own.
Just as sturdy scaffolding is necessary when erecting a building and will come down when the structure grows stable, good parenting provides children with steady and warm emotional nourishment on the path toward independence. Never-ending parental problem-solving and involvement can have the opposite effect, enabling fragility and anxiety over time.

In The Scaffold Effect, world-renowned child psychiatrist Harold Koplewicz introduces the powerful and clinically tested idea that this deliberate build-up and then gradual loosening of parental support is the single most effective way to encourage kids to climb higher, try new things, grow from mistakes, and develop character and strength. Explaining the building blocks of an effective scaffold from infancy through young adulthood, he expertly guides parents through the strategies for raising empowered, capable people, including:
Lay a solid foundation: The parent-child relationship needs to be made from the concrete mixture of emotional availability, positive reinforcement, clear messaging, and consistent rules. From this supportive base, your will forge a bond that will survive adolescence and grow stronger into adulthood.
Empower growth: Skyscraper or sprawling ranch—the style of your child's construction is not up to you! Scaffold parenting validates and accommodates the shape the child is growing into. Any effort to block or control growth will actually stunt it.
Stay on their level: Imagine being on the ground floor of a house and trying to talk to someone on the roof. The person on the roof will have to "talk down" to you or yell. If your child's building and your scaffold are on the same level, you can speak directly, look each other in the eye, and keep the lines of communication open.

Drawing on Dr. Koplewicz's decades of clinical and personal experience, The Scaffold Effect is a compassionate, street-smart, and essential guide for the ages.
Harold S. Koplewicz, MD, is one of the nation's leading child and adolescent psychiatrists. The founding president and medical director of the Child Mind Institute in New York City and San Mateo, California, he has been repeatedly named in America's Top Doctors, Best Doctors in America, and New York Magazine's Best Doctors in New York. He has appeared on Today, CBS News, CNN, The Oprah Winfrey Show, and Anderson Cooper 360°, and he is quoted regularly in the New York Times, USA Today, and The Wall Street Journal. He lives with his wife in New York City.
Wes Moore is the CEO of the Robin Hood Foundation, one of the largest antipoverty organizations in the country. He is a bestselling author, a combat veteran, and a social entrepreneur. His first book, The Other Wes Moore, was a New York Times and Wall Street Journal bestseller; his second book, The Work, was also a bestseller and featured in Oprah's SuperSoul Sunday. Wes appears regularly as a commentator on NBC News. He lives in his hometown of Baltimore with his wife and two children.
Event date:
Thursday, February 18, 2021 - 7:00pm EST

$28.00

ISBN: 9780593139349
Availability: On Our Shelves; Typically Ships in 1 - 2 Days
Published: Harmony - February 2nd, 2021
---
Please consider purchasing a "ticket" to support BookHampton's virtual event series. A "choose your own price" ticket purchase of any amount greatly benefits our programming options.

Your support enables BookHampton to continue providing engaging, informative, and entertaining events for readers of all ages.

We are so grateful for your continued support!
---