Virtual Guild Hall Artist-in-Residence Showcase: Mark Sarvas
Welcome to the 2021 Guild House Artist-in-Residence Mark Sarvas
Join us for a discussion of his 2019 American Book Award winning novel, Memento Park.
The evening, produced in partnership with Guild Hall, will feature discussions and readings of new works/excerpts written during Sarvas' time as a Guild Hall Artist-in-Residence.
---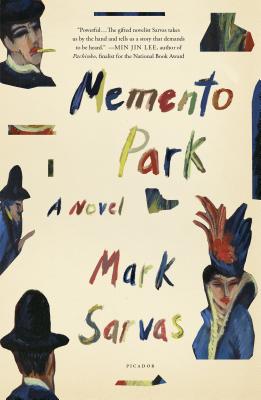 After receiving an unexpected call from the Australian consulate, Matt Santos becomes aware of a painting that he believes was looted from his family in Hungary during the Second World War. To recover the painting, he must repair his strained relationship with his harshly judgmental father, uncover his family history, and restore his connection to his own Judaism.
Along the way to illuminating the mysteries of his past, Matt is torn between his girlfriend Tracy and his attorney Rachel, with whom he travels to Budapest to unearth the truth about the painting and, in turn, his family. As his journey progresses, Matt's revelations are accompanied by equally consuming and imaginative meditations on the painting and the painter at the center of his personal drama, Budapest Street Scene by Ervin Kálmán. By the time Memento Park reaches its conclusion, Matt's narrative is as much about family history and father-son dynamics as it is about the nature of art itself, and the infinite ways we come to understand ourselves through it.
Of all the questions asked by Mark Sarvas's Memento Park ―about family and identity, about art and history― a central, unanswerable predicament lingers: How do we move forward when the past looms unreasonably large?
Mark Sarvas is the American Book Award-winning author of the novels Memento Park and Harry, Revised. He is a member of the National Book Critics Circle and PEN America, and has judged the PEN Center USA Fiction Award, the Flaherty-Dunnan First Novel Prize, the Kirkwood Prize, and The Tournament of Books. He is a contributing editor of the Los Angeles Review of Books. He lives in Santa Monica, where he was a recipient of a 2018 Arts Fellowship, and he teaches advanced novel writing in the UCLA Extension Writers Program. He holds an MFA in Creative Writing & Literature from Bennington College.
Established in 2016, Guild Hall's Guild House Artist-in-Residence (GHAIR) program offers artists and collectives the time and space to research, experiment, and develop new ideas/projects. Throughout the month-long residency, residents connect with accomplished artists, community leaders, and philanthropists at weekly salon dinners, receive mentorship from select members of the Academy of the Arts and Staff, and visit artist studios, cultural centers, and the natural preserves of the Hamptons. Due to the Covid19 pandemic, the Winter 2021 GHAIR program was completed remotely from each artists home/studio.
Event date:
Thursday, March 11, 2021 - 7:00pm EST