Virtual: Gae Polisner & Nora Raleigh Baskin, "Seven Clues to Home"
Join us for this free virtual event
Order Seven Clues to Home on or before June 6, 2020, and get a bookplate signed by the authors while supplies last.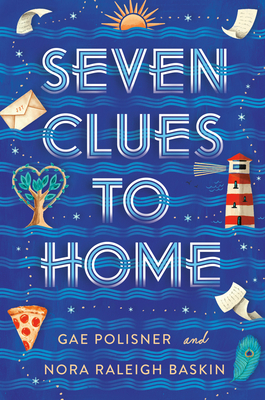 An endearing story of love and grief as one girl follows the clues in a scavenger hunt left behind by her best friend, perfect for fans of Bridge to Terabithia and Nine, Ten.
When you've lost what matteres most, how do you find your way back home?
Joy Fonseca is dreading her 13th birthday, dreading being reminded again about her best friend Lukas's senseless death on this day, one year ago — and dreading the fact he may have heard what she accidentally blurted to him the night before. Or maybe she's more worried he didn't hear.
Either way, she's decided: she's going to finally open the first clue to their annual birthday scavenger hunt Lukas left for her the morning he died, hoping the rest of the clues are still out there. If they are, they might lead Joy to whatever last words Lukas wrote, and toward understanding how to grab onto the future that is meant to be hers.
"I truly loved it! Baskin and Polisner seamlessly unfold one touching relationship after another in this gorgeous story about everlasting friendship. This tender tale is indelibly etched on my heart." –Leslie Connor, author of the National Book Award finalist The Truth as Told by Mason Buttle
Gae Polisner is a lawyer by trade, but a writer by calling. She lives on Long Island with her husband, two sons, and a suspiciously fictional-looking dog named Charlie. When Gae isn't lawyering or writing, you can find her in a pool or the open waters off Long Island. She's still hoping that one day her wetsuit will turn her into a superhero.
Nora Raleigh Baskin is the ALA Schneider Family Book Award-winning author of Anything but Typical. She was chosen as a Publishers Weekly Flying Start author for her novel What Every Girl (Except Me) Knows, and has since written a number of novels for middle graders and teens, including The Truth About My Bat Mitzvah, The Summer Before Boys, and Ruby on the Outside. And most recently, Nine, Ten: A September 11 Story, which received starred reviews from both Kirkus and Publishers Weekly.
Event date:
Thursday, June 11, 2020 - 6:00pm EDT

$16.99
ISBN: 9780593119617
Availability: Usually Ships in 1-5 Days
Published: Knopf Books for Young Readers - June 9th, 2020
---