Virtual: Don Lemon, "This Is The Fire" in Conversation with Khalilah Brown-Dean
Join us for a deep discussion of race and racism in America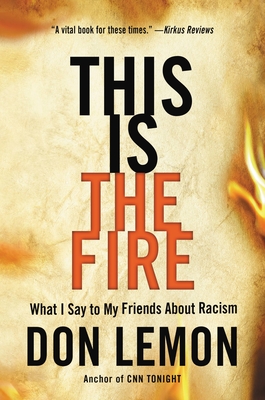 In this 'vital book for these times' (Kirkus Reviews), Don Lemon brings his vast audience and experience as a reporter and a Black man to today's most urgent question: How can we end racism in America in our lifetimes?

The host of CNN Tonight with Don Lemon is more popular than ever. As America's only Black prime-time anchor, Lemon and his daily monologues on racism and antiracism, on the failures of the Trump administration and of so many of our leaders, and on America's systemic flaws speak for his millions of fans. Now, in an urgent, deeply personal, riveting plea, he shows us all how deep our problems lie, and what we can do to begin to fix them.
Beginning with a letter to one of his Black nephews, he proceeds with reporting and reflections on his slave ancestors, his upbringing in the shadows of segregation, and his adult confrontations with politicians, activists, and scholars. In doing so, Lemon offers a searing and poetic ultimatum to America. He visits the slave port where a direct ancestor was shackled and shipped to America. He recalls a slave uprising in Louisiana, just a few miles from his birthplace. And he takes us to the heart of the 2020 protests in New York City. As he writes to his young nephew: We must resist racism every single day. We must resist it with love.
Dr. Khalilah L. Brown-Dean is an Award-Winning Scholar, Accomplished Author, and Visionary Community Leader. A tenured Associate Professor of Political Science at Quinnipiac University and former Faculty Co-Coordinator of the Health Policy and Advocacy concentration in the Frank H. Netter School of Medicine, her work is published in numerous scholarly and public outlets such as The New York Times, Politics, Groups, and Identities, the National Political Science Review, PS: Political Science and Politics, and The National Coalition on Black Civic Participation. Dr. Brown-Dean is co-author of "Fifty Years of the Voting Rights Act: The State of Race in Politics" for the Joint Center for Political and Economic Studies and a contributing researcher for the Urban League of Southern Connecticut's "State of Urban Connecticut" project. With a keen eye toward the practical implications of democratic conflict, Dr. Brown-Dean is a preeminent expert on issues of criminal punishment, mass incarceration, voting rights, and U.S. elections. Her work has been supported by the Ford Foundation, the Open Society Foundations, and the Prosperity Foundation.
Event date:
Wednesday, March 17, 2021 - 5:00pm EDT