Virtual: David M. Rubenstein, "How to Lead," in Conversation with Robert Barnett
The world's top entrepeneurs share their hard-won wisdom
in this essential leadership playboook.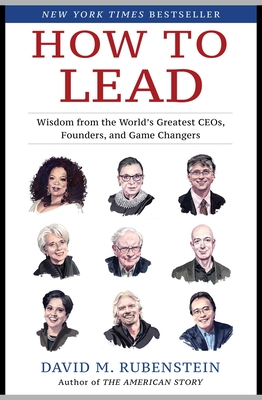 Learn the principles and guiding philosophies of Bill Gates, Jeff Bezos, Ruth Bader Ginsburg, Warren Buffett, Oprah Winfrey, and many others through illuminating conversations about their remarkable lives and careers.
For the past five years, David M. Rubenstein—author of The American Story, visionary cofounder of The Carlyle Group and host of The David Rubenstein Show—has spoken with the world's highest performing leaders about who they are and how they became successful. How to Lead distills these revealing conversations into an indispensable leadership guidebook.
Gain advice and wisdom from CEOs, presidents, founders, and master performers from the worlds of finance (Warren Buffett, Jamie Dimon, Christine Lagarde, Ken Griffin), tech (Jeff Bezos, Bill Gates, Eric Schmidt, Tim Cook), entertainment (Oprah Winfrey, Lorne Michaels, Renee Fleming, Yo-Yo Ma), sports (Jack Nicklaus, Adam Silver, Coach K, Phil Knight), government (President Bill Clinton, President George W. Bush, Ruth Bader Ginsburg, Nancy Pelosi), and many others.
Jeff Bezos harnesses the power of wandering, discovering that his best decisions have been made with heart and intuition, rather than analysis.
Richard Branson never goes into a venture looking to make a profit. He aims to make the best in field.
Phil Knight views Nike as a marketing company whose product is its most important marketing tool.
Marillyn Hewson, who grew up in a fatherless home with four siblings in Kansas, quickly learned the importance of self-reliance and the value of a dollar.
How to Lead shares the extraordinary stories of these pioneering agents of change. Discover how each luminary got started and how they handle decision making, failure, innovation, change, and crisis. Learn from their decades of experience as pioneers in their field. No two leaders are the same.
David M. Rubenstein is the author of The American Story and cofounder and co-executive chairman of The Carlyle Group, one of the world's largest and most successful private equity firms. Rubenstein is Chairman of the Boards of Trustees of the John F. Kennedy Center for the Performing Arts, and the Council on Foreign Relations. He is an original signer of The Giving Pledge and a recipient of the Carnegie Medal of Philanthropy and the MoMA's David Rockefeller Award, among other philanthropic awards. The host of The David Rubenstein Show on Bloomberg TV and PBS, he lives in the Washington, DC area.
Robert Barnett is one of the premier authors' representatives in the world. His clients have included Barack Obama, Bill Clinton, George W. Bush, James Patterson, Hillary Rodham Clinton, Michelle Obama, Laura Bush, Bob Woodward, Mary Higgins Clark, Dick Cheney, Alan Greenspan, Katharine Graham, Ben Bernanke, Nikki Haley, Tim Russert, Barbra Streisand, Jack Welch, Khaled Hosseini, Bill Walton, Mitch McConnell, Jake Tapper, Phil Knight, several former U.S. Secretaries of State and Secretaries of the Treasury, numerous U.S. Senators and House members, Tony Blair of the United Kingdom, Queen Noor of Jordan, The Prince of Wales, Benazir Bhutto of Pakistan, and many others, including journalists, novelists, business leaders, sports stars, politicians, and others.
Order the book and receive a complimentary bookplate signed by the author.
Event date:
Thursday, October 8, 2020 - 7:00pm EDT

$30.00
ISBN: 9781982132156
Availability: On Our Shelves; Typically Ships in 1 - 2 Days
Published: Simon & Schuster - September 1st, 2020
---
Please consider purchasing a "ticket" to support BookHampton's virtual event series. A "choose your own price" ticket purchase of any amount greatly benefits our programming options.

Your support enables BookHampton to continue providing engaging, informative, and entertaining events for readers of all ages.

We are so grateful for your continued support!
---