Virtual: Christy Lefteri, "Songbirds" in Conversation with Meredith Barnett
Join a conversation about race and class with
the author of The Beekeeper of Aleppo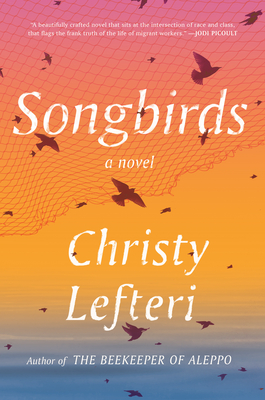 Living on the island of Cyprus, Nisha is far from her native Sri Lanka. Though she longs to return home, she knows that working as a nanny and maid for a wealthy widow is the only way to earn enough to support her daughter, left behind to be raised by relatives.
Yiannis is a poacher, trapping the tiny protected songbirds that stop in Cyprus as they migrate each year from Africa to Europe and selling them on the illegal market. He dreams of finding a new way of life, and of marrying Nisha.
But one night, Nisha makes dinner, an aromatic dahl curry, for the family who pays her: Petra and her daughter Aliki. Then, after she cleans the kitchen and tucks Aliki into bed, Nisha goes out on a mysterious errand, and vanishes.
When the police refuse to pursue the case, Petra takes on the investigation herself, a path that leads her to Nisha's friends — other workers in the neighborhood — and to the darker side of a migrant's life, where impossible choices leave them vulnerable, captive, and worse.
Inspired by the real-life disappearance of domestic workers in Cyprus, Christy Lefteri has crafted a poignant, deeply empathetic narrative of the human stories behind the headlines. With infinite tenderness and skill, Songbirds offers a triumphant story of the fight for truth and justice, and of women reclaiming their lost voices.
Brought up in London, Christy Lefteri is the child of Cypriot refugees. She holds a Ph.D. in creative writing from Brunel University, where she is now a lecturer. Her previous novel, the international bestseller The Beekeeper of Aleppo, won the Aspen Words Literary Prize and was the runner-up for the Dayton Literary Peace Prize. She is also the author of A Watermelon, a Fish and a Bible, which was longlisted for the IMPAC Dublin Literary Award.
Meredith Barnett is a content strategist, writer, and brand expert who creates and cultivates brand narratives and positioning for individuals and organizations in the fashion, beauty, real estate, and interior design industries. Her clients range from individual executives to startups to established brands, and have included eBay, The Laundress, Tory Burch, Draper James, Cover FX, and others. She is a strategic communicator, an experienced public speaker, and a skilled writer with a keen sense for using brand storytelling to further customer engagement. She has an MBA from Harvard Business School and a B.A. from Brown University. She lives in Manhattan with her husband and three young children.
Registered attendees will receive a link to the virtual meeting
Event date:
Monday, September 20, 2021 - 7:00pm EDT

$27.00

ISBN: 9780593238042
Availability: On Our Shelves; Typically Ships in 1 - 2 Days
Published: Ballantine Books - August 3rd, 2021
---