Virtual: Catie Marron, "Becoming a Gardener" in conversation with Caroline Weber
How to be a Gardener
Catie Marron in conversation with Caroline Weber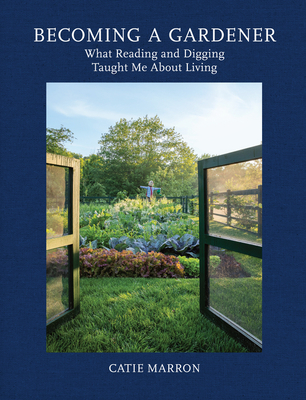 A beautifully designed, full-color personal account of what it means to become a gardener, filled with specially commissioned color photography, watercolors, and fine art and adorned with satin ribbon markers.
To make her new house in Connecticut truly feel like home, Catie Marron decided to create a garden. But while she was familiar with landscape design, she had never grown anything. A dedicated reader with a lifelong passion for literature, Marron turned to the library of gardening books she'd collected to glean advice from a variety of writers on gardening and horticultural topics both grand and small.
Marron's quest to become a gardener, however, was about more than learning the basics about mulch or which plants work best in the shade. She sought something far more elusive: to identify the core qualities and characteristics that make a person a gardener and an understanding of what a garden could mean to her as it had to multitudes of other gardeners over the centuries.
In Becoming a Gardener, Catie Marron chronicles her transformation into a gardener over the course of eighteen months, seeding the details of her experience with rich advice from writers as diverse as Eleanor Perényi and Karel Capek, Penelope Lively, and Jamaica Kincaid. As she digs deeper into her readings and works in the garden itself, Marron not only discovers the essence of gardening but in the words of Michael Pollan, "the endlessly engrossing ways that cultivating a garden attaches a body to the earth."
A delightful blend of informed opinion, personal reflection, and practical advice, Becoming a Gardener explores topics as varied as the composition of dirt, the agricultural wisdom of avid kitchen gardeners George Washington and Thomas Jefferson, the healing power of digging in the soil, and the beauty of finding solitude in nature. Throughout, Marron carefully plants special illustrated features, such as musings on the merits (and detriments) of the rose, essential tools, moonlight gardening, children's books which feature gardens, and her favorite gardens around the world. Also included is an annotated list of recommended writers, books, and films related to gardens and gardening, and a monthly to-do calendar.
Featuring specially commissioned illustrations by the Danish team All the Way to Paris, and stunning photographs by acclaimed photographer William Abranowicz that capture the pastoral beauty of Marron's Connecticut garden,
Becoming a Gardener is a very special and moving portrait of life and the enduring power of literature and nature that is sure to become an instant classic.
Catie Marron's career has included investment banking, magazine journalism, public service, and book publishing. A contributing editor at Vogue for more than twenty years, she is the creator and editor of the anthologies City Squares: Eighteen Writers on the Spirit and Significance of Squares Around the World, and City Parks: Public Places, Private Thoughts. She is a trustee and Chair Emeritus of the New York Public Library, where she was Chairman of the Board from 2004 to 2011. Marron is also a trustee of Friends of the High Line, where she was also Board Chair, and a trustee of the Metropolitan Museum of Art and the Doris Duke Charitable Foundation. She lives in Connecticut and New York City.
Caroline Weber is a professor of French and Comparative Literature at Barnard College and Columbia University. Her latest book, Proust's Duchess: How Three Remarkable Women Captured the Imagination of Fin-de-Siecle Paris (Knopf 2018), won the French Heritage Society Book Prize and was a finalist for the Pulitzer Prize in Biography and the American Library in Paris Book Award. She has recently held fellowships from the Guggenheim Foundation, the Cullman Center at the NY Public Library, and the Mount, Edith Wharton's estate in the Berkshires. She publishes widely in the non-academic press, in outlets including the New York Times, the Financial Times, the Wall Street Journal, the Washington Post, the London Review of Books, Book Forum, LitHub, Town & Country, Vogue, and W magazine.
A ZOOM LINK WILL BE EMAILED TO REGISTERED ATTENDEES THE DAY OF THE EVENT
Event date:
Tuesday, June 14, 2022 - 6:00pm EDT

$60.00

ISBN: 9780062963611
Availability: On Our Shelves; Typically Ships in 1 - 2 Days
Published: Harper Design - May 3rd, 2022
---