Virtual: Carl Hiaasen, "Squeeze Me" in Conversation with Peter J. Solomon
Join us for a night of social and political intrigue
set against the glittering backdrop of Florida's gold coast
with the best-selling author of Skinny Dip and Razor Girl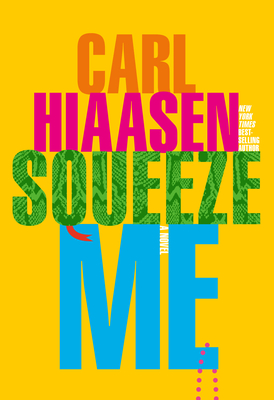 It's the height of the Palm Beach charity ball season: for every disease or cause, there's a reason for the local luminaries to eat (minimally), drink (maximally), and be seen. But when a prominent high-society dowager suddenly vanishes during a swank gala, and is later found dead in a concrete grave, panic and chaos erupt. Kiki Pew was notable not just for her wealth and her jewels—she was an ardent fan of the Winter White House resident just down the road, and a founding member of the POTUSSIES, a group of women dedicated to supporting their President. Never one to miss an opportunity to play to his base, the President immediately declares that Kiki was the victim of rampaging immigrant hordes. This, it turns out, is far from the truth.
The truth might just lie in the middle of the highway, where a bizarre discovery brings the First Lady's motorcade to a grinding halt (followed by some grinding between the First Lady and a love-struck Secret Service agent). Enter Angie Armstrong, wildlife wrangler extraordinaire, who arrives at her own conclusions after she is summoned to the posh island to deal with a mysterious and impolite influx of huge, hungry pythons…
Carl Hiaasen can brighten even the darkest of days and Squeeze Me is pure, unadulterated Hiaasen. Irreverent, ingenious, and highly entertaining, Squeeze Me perfectly captures the absurdity of our times.
Carl Hiaasen was born and raised in Florida. He is the author of fourteen previous novels, including the best sellers Bad Monkey, Lucky You, Nature Girl, Razor Girl, Sick Puppy, Skinny Dip, and Star Island, as well as six best-selling children's books, Hoot, Flush, Scat, Chomp, Skink, and Squirm. His most recent work of nonfiction is Assume the Worst, a collaboration with the artist Roz Chast.
Peter J. Solomon is the author of Wasting Time Constructively : A Gude to a Balanced Life. He is chairman of PJ SOLOMON. He is currently a director of Monro, Inc. and has served as a director of over 10 public companies. Mr. Solomon served as Co-Chairman of New York Governor Andrew M. Cuomo's Tax Reform and Fairness Commission. He also served on Governor Cuomo's Council of Economic and Fiscal Advisors and the Spending and Government Efficiency (SAGE) Commission.
Carl and Peter are close friends who live in Vero Beach and, among other activities, fish together.
Event date:
Wednesday, October 28, 2020 - 7:00pm EDT

$28.95

ISBN: 9781524733452
Availability: Usually Ships in 1-5 Days
Published: Knopf - August 25th, 2020
---
Please consider purchasing a "ticket" to support BookHampton's virtual event series. A "choose your own price" ticket purchase of any amount greatly benefits our programming options.

Your support enables BookHampton to continue providing engaging, informative, and entertaining events for readers of all ages.

We are so grateful for your continued support!
---