Virtual: Brooke Lea Foster, "On Gin Lane" in conversation with Jamie Brenner
The Glamourous Summer On Gin Lane
Brooke Lea Foster in conversation with Jamie Brenner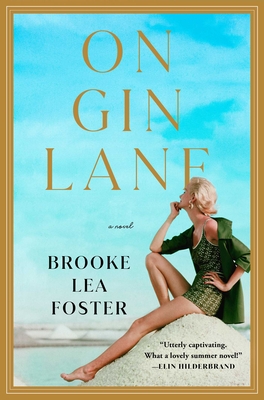 After her fiancé whisks her off to the glistening shores of Southampton in June of 1957, one young socialite begins to realize that her glamorous summer is giving her everything—except what she really wants—in this new novel from the author of Summer Darlings.
Everleigh "Lee" Farrows thinks she finally has life all figured out: a handsome fiancé named Roland, a trust in her name, and a house in Bronxville waiting for her to fill it with three adorable children. That is, until Roland brings her out to the Hamptons for a summer that will change everything.
Most women could only dream of the engagement present Roland unexpectedly bestows on Lee—a beachside hotel on the prized Gin Lane—but Lee's delight is clouded by unpleasant memories of another hotel, the Plaza, where she grew up in the shadow of her mother's mental illness. Shaking off flashbacks, Lee resolves to dive into an unforgettable summer with poolside Bellinis, daily tennis matches, luncheons with her Manhattan circle, and her beloved camera in tow. But when tragedy strikes on the hotel's opening weekend, the cracks in Lee's picture-perfect future slowly begin to reveal themselves, and Lee must look deep within herself to determine if the life she's always wanted will ever truly be enough.
From the regal inns to the farmland, the well-heeled New Yorkers to the Bohemian artists, the East End of Long Island is a hodge-podge of the changing American landscape in the late 1950s—and the perfect place for Lee to discover who she really is.
Brooke Lea Foster is an award-winning journalist whose articles have appeared in The New York Times, The Washington Post Magazine, The Atlantic, The Boston Globe Sunday Magazine, and HuffPost, among others. An alumna of The Writing Institute at
Sarah Lawrence College, she is the author of three nonfiction books and the novels Summer Darlings and On Gin Lane.
Jamie Brenner grew up in suburban Philadelphia on a steady diet of Jackie Collins and Judith Krantz novels (more on that below). She studied literature at The George Washington University before moving to New York City to work at HarperCollins Publishers, then later Barnes&Noble.com and Vogue.com before becoming an author. Her novel The Forever Summer is a national bestseller. Booklist declared her latest novel, BLUSH, "A delectable soap [that is] the epitome of escapist reading pleasure." Her new book, GILT, will publish on June 21, 2022 with Putnam. Jamie divides her time between Philadelphia and New York City.
CHECK OUT THE BOOK TRAILER
A ZOOM LINK WILL BE EMAILED TO REGISTERED ATTENDEES ON THE DAY OF THE EVENT
Event date:
Tuesday, May 31, 2022 - 5:30pm EDT