Virtual: Brigid Kemmerer, "A Vow So Bold and Deadly" in Conversation with Stephanie Garber
Join us for the conclusion of Brigid Kemmerer's Cursbreaker series
This event has sold out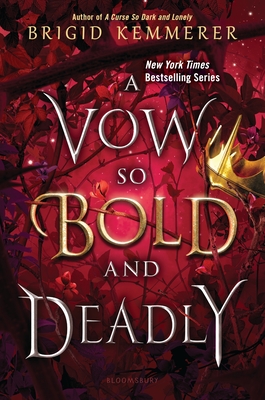 Kingdoms will clash. Choose your side. The incredible conclusion to New York Times bestselling author Brigid Kemmerer's Cursebreaker series.
Emberfall is crumbling fast, torn between those who believe Rhen is the rightful prince and those who are eager to begin a new era under Grey, the true heir. Grey has agreed to wait two months before attacking Emberfall, and in that time, Rhen has turned away from everyone--even Harper, as she desperately tries to help him find a path to peace.
Meanwhile, Lia Mara struggles to rule Syhl Shallow with a gentler hand than her mother. But after enjoying decades of peace once magic was driven out of their lands, some of her subjects are angry Lia Mara has an enchanted prince and a magical scraver by her side. As Grey's deadline draws nearer, Lia Mara questions if she can be the queen her country needs.
As the two kingdoms come closer to conflict, loyalties are tested, love is threatened, and an old enemy resurfaces who could destroy them all, in this stunning conclusion to bestselling author Brigid Kemmerer's Cursebreaker series.
Brigid Kemmerer is the author of Letters to the Lost and the Elementals series. She was born in Omaha, Nebraska, though her parents quickly moved her all over the United States, from the desert in Albuquerque, New Mexico, to the lakeside in Cleveland, Ohio, and several stops in between, eventually settling near Annapolis, Maryland.
Stephanie Garber loves Disneyland because it's the one place on earth where she feels as if the fantastical stories she loves to write about could actually come to life. She is the #1 New York Times and internationally bestselling author of Caraval and Legendary.
A ticket includes one (1) copy of A Vow So Bold and Deadly, admission to the virtual event, and a bonus deleted scene from the novel.
ORDER YOUR TICKET AND RECEIVE A COMPLIMENTARY SIGNED BOOKPLATE*
*while supplies last
Event date:
Thursday, February 11, 2021 - 7:00pm EST