Virtual: Bishop Michael Curry in Conversation with Roxanne Coady
Join us to explore love and faith together
Order Love Is The Way and receive a signed bookplate*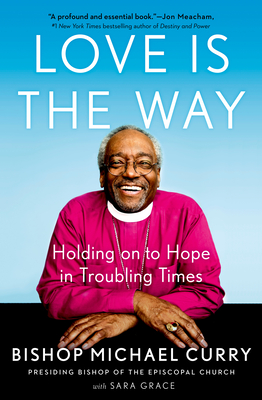 Walk the path of love with one of the warmest, most beloved spiritual leaders of our time, and learn how to put faith into action.
As the descendant of slaves and the son of a civil rights activist, Bishop Michael Curry's life illustrates massive changes in our times. Much of the world met Bishop Curry when he delivered his sermon on the redemptive power of love at the royal wedding of Prince Harry and Meghan Markle at Windsor Castle. Here, he expands on his message of hope in an inspirational road map for living the way of love, illuminated with moving lessons from his own life. Through the prism of his faith, ancestry, and personal journey, Love Is the Way shows us how America came this far and, more important, how to go a whole lot further.
The way of love is essential for addressing the seemingly insurmountable challenges facing the world today: poverty, racism, selfishness, deep ideological divisions, competing claims to speak for God. This book will lead readers to discover the gifts they need in order to live the way of love: deep reservoirs of hope and resilience, simple wisdom, the discipline of nonviolence, and unshakable regard for human dignity.
The Most Reverend Michael B. Curry is the presiding bishop and primate of the Episcopal Church. Elected in 2015, he is the first African-American to lead the denomination. He was previously bishop of the Episcopal Diocese of North Carolina. A noted advocate for human rights and author of several books, Bishop Curry is recognized as one of the most popular preachers in the English language. He and his wife Sharon Curry have two daughters, Rachel and Elizabeth. They live in North Carolina.
Roxanne J. Coady founded RJ Julia Booksellers in Madison, Connecticut in 1989, creating a business that is recognized as a national leader among independent booksellers. In 2009, Coady founded a personalized book subscription site, Just the Right Book. This site has a national reach and combines the intimacy of an independent bookstore with the digital marketplace. In addition, Coady hosts a weekly podcast available on iTunes, Just the Right Book, in which she interviews best-selling authors and people in the bookselling and publishing community.
Order Love Is The Way and receive a signed bookplate*
*while supplies last
Event date:
Wednesday, February 24, 2021 - 7:00pm EST

$27.00
ISBN: 9780525543039
Availability: On Our Shelves; Typically Ships in 1 - 2 Days
Published: Avery - September 22nd, 2020
---
Please consider purchasing a "ticket" to support BookHampton's virtual event series. A "choose your own price" ticket purchase of any amount greatly benefits our programming options.

Your support enables BookHampton to continue providing engaging, informative, and entertaining events for readers of all ages.

We are so grateful for your continued support!
---