Virtual: Aminatou Sow & Ann Friedman, "Big Friendship" in Conversation with Roxanne Coady
A close friendship is one of the most influential and important relationships a human life can contain.
Join us for a discussion about what it really takes to stay close for the long haul.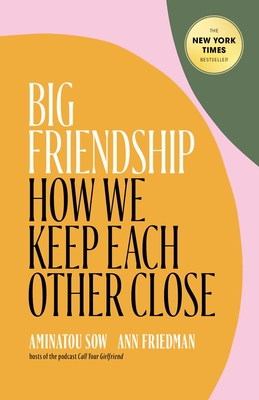 Now two friends, Aminatou Sow and Ann Friedman, tell the story of their equally messy and life-affirming Big Friendship in this honest and hilarious book that chronicles their first decade in one another's lives. As the hosts of the hit podcast Call Your Girlfriend, they've become known for frank and intimate conversations. In this book, they bring that energy to their own friendship—its joys and its pitfalls.
Aminatou and Ann define Big Friendship as a strong, significant bond that transcends life phases, geographical locations, and emotional shifts. And they should know: the two have had moments of charmed bliss and deep frustration, of profound connection and gut-wrenching alienation. They have weathered life-threatening health scares, getting fired from their dream jobs, and one unfortunate Thanksgiving dinner eaten in a car in a parking lot in Rancho Cucamonga. Through interviews with friends and experts, they have come to understand that their struggles are not unique. And that the most important part of a Big Friendship is making the decision to invest in one another again and again.
An inspiring and entertaining testament to the power of society's most underappreciated relationship, Big Friendship will invite you to think about how your own bonds are formed, challenged, and preserved. It is a call to value your friendships in all of their complexity. Actively choose them. And, sometimes, fight for them.
Aminatou Sow is a writer, interviewer, and cultural commentator. She is a frequent public speaker whose talks and interviews lead to candid conversations about ambition, money, and power. Aminatou lives in Brooklyn.
Ann Friedman is a journalist, essayist, and media entrepreneur. She is a contributing editor to The Gentlewoman. Every Friday, she sends a popular email newsletter. Ann lives in Los Angeles.
Roxanne J. Coady founded RJ Julia Booksellers in Madison, Connecticut in 1989, creating a business that is recognized as a national leader among independent booksellers. In 2009, Coady founded a personalized book subscription site, Just the Right Book. This site has a national reach and combines the intimacy of an independent bookstore with the digital marketplace. In addition, Coady hosts a weekly podcast available on iTunes, Just the Right Book, in which she interviews best-selling authors and people in the bookselling and publishing community.
Event date:
Wednesday, September 23, 2020 - 7:00pm EDT

$26.00
ISBN: 9781982111908
Availability: On Our Shelves; Typically Ships in 1 - 2 Days
Published: Simon & Schuster - July 14th, 2020
---
Please consider purchasing a "ticket" to support BookHampton's virtual event series. A "choose your own price" ticket purchase of any amount greatly benefits our programming options.

Your support enables BookHampton to continue providing engaging, informative, and entertaining events for readers of all ages.

We are so grateful for your continued support!
---