Virtual: Alexandra Monir, "Black Canary" & Julie Buxbaum, "Admission" in Conversation with Karen Schumann
Join us to celebrate your favorite superheroes
and taking back the night with the Black Canary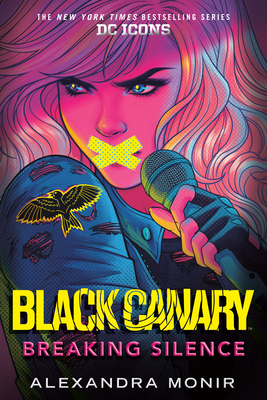 In this thrilling origin story of Black Canary, Dinah Lance's voice is her weapon. And in a near-future world where women have no rights, she won't hesitate to use everything she has--including her song--to fight back.
Dinah Lance was eight years old when she overheard the impossible: the sound of a girl singing. It was something she was never meant to hear--not in her lifetime and not in Gotham City, taken over by the vicious, patriarchal Court of Owls. The sinister organization rules Gotham City as a dictatorship and has stripped women of everything--their right to work, to make music, to learn, to be free.
Now seventeen, Dinah can't forget that haunting sound, and she's beginning to discover that her own voice is just as powerful. But singing is forbidden--a one-way route to a certain death sentence. Fighting to balance her father's desire to keep her safe, a blossoming romance with mysterious new student Oliver Queen, and her own need to help other women and girls rise up, Dinah wonders if her song will finally be heard. And will her voice be powerful enough to destroy the Court of Owls once and for all?
Alexandra Monir is the Iranian-American author of the internationally bestselling novel The Final Six and five other books for young adults. Alexandra spent her teen years as a pop singer before publishing her debut novel, Timeless, and continues to write and record music. She lives in Los Angeles with her husband, toddler son, and one fluffy Shih Tzu. To learn more about Alexandra, visit her online at alexandramonir.com.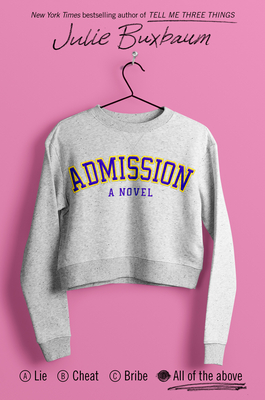 Lie. Cheat. Bribe. How far would you go to get into your dream school? How far would your parents go? Inspired by the recent college admissions scandal, this ripped-from-the-headlines YA novel by the New York Times bestselling author of Tell Me Three Things sees one teenage girl's privileged world shatter when her family's lies are exposed.
It's good to be Chloe Wynn Berringer--she has it all--money, privilege, and a ticket to the college of her dreams. Or at least she did until the FBI came knocking on her front door, guns at the ready, and her future went up in smoke. Now her B list celebrity mother is under arrest in a massive college admissions bribery scandal, and Chloe might be the next one facing charges. The public is furious, the headlines are brutal, and the US attorney is out for blood.
As everything she's taken for granted starts to slip away, Chloe must reckon not only with the truth of what happened, but also with the examination of her own guilt. How much did she really know-or guess? Why did her parents think the only way for her to succeed was to cheat? And what does it really mean to be complicit?
Bestselling author Julie Buxbaum takes on the college admissions bribery scandal that rocked the country in this timely tale of the hyper elite and the hyper competitive, and the lengths they go to stay at the top.
Julie Buxbaum is the author of the What to Say Next, as well as the New York Times bestseller Tell Me Three Things, her debut young adult novel. She also wrote the critically acclaimed The Opposite of Love and After You. Her work has been translated into twenty-five languages. She lives in Los Angeles with her husband and their two young children.
Event date:
Monday, January 11, 2021 - 7:00pm EST

$18.99
ISBN: 9780593178317
Availability: Usually Ships in 1-5 Days
Published: Random House Books for Young Readers - December 29th, 2020
---

$18.99
ISBN: 9781984893628
Availability: Usually Ships in 1-5 Days
Published: Delacorte Press - December 1st, 2020
---
Please consider purchasing a "ticket" to support BookHampton's virtual event series. A "choose your own price" ticket purchase of any amount greatly benefits our programming options.

Your support enables BookHampton to continue providing engaging, informative, and entertaining events for readers of all ages.

We are so grateful for your continued support!
---