Virtual: Admiral James Stavridis, "To Risk It All" in conversation with Thomas F. McLarty
Find Out What it Means to Risk it All:
Admiral James Stavridis with Thomas F. McLarty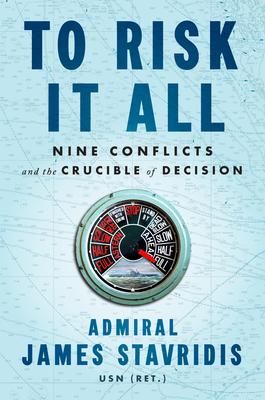 From one of the great naval leaders of our time, a master class in decision-making under pressure through the stories of nine famous acts of leadership in battle, drawn from the history of the United States Navy, with outcomes both glorious and notorious
At the heart of Admiral James Stavridis's training as a naval officer was the preparation to lead sailors in combat, to face the decisive moment in battle whenever it might arise. In To Risk it All, he offers up nine of the most useful and enthralling stories from the US Navy's nearly 250-year history, and draws from them a set of insights that we can all put to use when confronted with fateful choices.
Conflict. Crisis. Risk. These words have a distinct meaning in a military context that we hope will never apply identically in our own lives. But at the same time, as Admiral Stavridis shows with great clarity, many lessons are universal.
To Risk it All is filled with thrilling and heroic exploits, but it is anything but a shallow exercise in myth burnishing. Every leader in this book has real flaws, as all humans do, and the stories of failure, or at least the decisions that have been defined as such, are as crucial as the stories of success. In the end, when this master class is concluded, we will be better armed for hard decisions both expected and not.
Admiral James Stavridis, USN (Ret.) spent more than thirty years in the U. S. Navy, rising to the rank of four-star admiral. He was Supreme Allied Commander at NATO and previously commanded U. S. Southern Command, overseeing military operations through Latin America. At sea, he commanded a Navy destroyer, a destroyer squadron, and an aircraft carrier battle group in combat. He holds a Ph. D. from the Fletcher School of Law and Diplomacy at Tufts University, where he recently served five years as dean. He received fifty medals in the course of his military career, including twenty-eight from foreign nations. He has published nine other books, including 2034: A Novel of the Next World War, with Elliott Ackerman, and is chief international analyst for NBC News and a contributing editor for Time magazine. He is currently the Vice Chair, Global Affairs of the Carlyle Group and the Chair of the Board of Trustees for the Rockefeller Foundation.
Thomas F. "Mack" McLarty, III is Chairman of McLarty Associates, an international strategic advisory firm he co-founded in 1998. His distinguished record of business leadership and public service includes various roles advising three U.S. Presidents: Jimmy Carter, George H.W. Bush, and Bill Clinton, for whom he served as White House Chief of Staff, Counselor, and Special Envoy for the Americas. Mr. McLarty is also Chairman of the McLarty Companies, a fourth-generation family transportation business. Prior to his government service, he was Chairman and Chief Executive Officer of Arkla, a Fortune 500 natural gas company. He is the recipient of the Secretary of State's Distinguished Service Medal; the highest civilian honors of Argentina, Brazil, Chile, Mexico, Nicaragua, Panama, and Venezuela; and the Center for the Study of the Presidency Distinguished Service Award.
A ZOOM LINK WILL BE EMAILED TO REGISTERED ATTENDEES ON THE DAY OF THE EVENT
Event date:
Wednesday, June 1, 2022 - 7:00pm EDT

$28.00

ISBN: 9780593297742
Availability: On Our Shelves; Typically Ships in 1 - 2 Days
Published: Penguin Press - May 24th, 2022
---

$19.00

ISBN: 9780735220614
Availability: Usually Ships in 1-5 Days
Published: Penguin Books - June 5th, 2018
---