Sudhir Venkatesh, "The Tomorrow Game" in conversation with Amanda M. Fairbanks
THE TOMORROW GAME
Sudhir Venkatesh in conversation with Amanda M. Fairbanks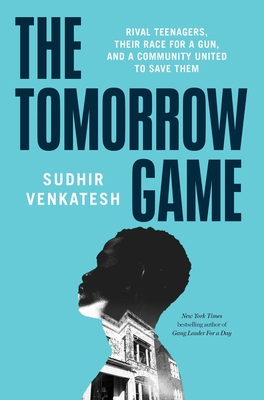 A New York Times bestselling author's gripping account of a Chicago community coming together to save a group of teenagers from gun violence.
In the tradition of works like Random Family and Behind the Beautiful Forevers, Sudhir Venkatesh's The Tomorrow Game is a deeply reported chronicle of families surviving in a Southside Chicago community.
At the heart of the story are two teenagers: Marshal Mariot, an introverted video gamer and bike rider, and Frankie Paul, who leaves foster care to direct his cousin's drug business while he's in prison. Frankie devises a plan to attack Marshall and his friends—it is his best chance to showcase his toughness and win respect for his crew. Catching wind of the plan, Marshall and his friends decide they must preemptively go after Frankie's crew to defend their honor. The pressure mounts as both groups of teens race to find a gun and strike first. All the while, the community at large—a cast that includes the teens' families, black market gun dealers, local pastors, a bodega owner and a veteran beat cop—try their best to defuse the conflict and keep the kids alive.
Based on Venkatesh's three decades of immersion in Chicago's Southside, and as propulsive as a novel, The Tomorrow Game is a nuanced, timely look at the toll that poverty and gun violence take on families and their communities.
Sudhir Venkatesh is the author of Floating City and Gang Leader for a Day, a New York Times bestseller that received a best book of the year award from The Economist. He has been a Columbia University Professor, a Director of Safety teams at Facebook and Twitter, and a Senior Advisor to the Department of Justice. Venkatesh's writings have appeared in the New York Times, the Chicago Tribune, and The Washington Post. He lives in New York City.
Amanda M. Fairbanks is a journalist who has worked in the editorial department of The New York Times, as a reporter for HuffPost, and at The East Hampton Star, where she wrote investigative stories, features, and profiles. Her writing has also appeared in The Boston Globe, Newsweek, The Atlantic, and The San Francisco Chronicle. A graduate of Smith College and a former Teach for America corps member, she has two master's degrees from Columbia University's Graduate School of Journalism, and currently lives with her family in Sag Harbor.
PLEASE JOIN SUDHIR VENKATESH IN PERSON AT BOOKHAMPTON.
SEE YOU SOON!
Event date:
Tuesday, June 28, 2022 - 6:00pm EDT
Event address:
BookHampton
41 Main Street