[POSTPONED] Virtual: Kate Thompson, "The Little Wartime Library" in conversation with Natasha Lester, "The Three Lives of Alix St. Pierre"
***POSTPONED***
Women in Wartime:
A Virtual Evening with Kate Thompson and Natasha Lester
---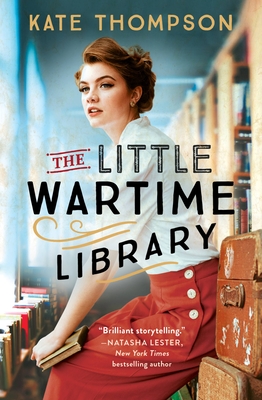 London, 1944: Clara Button is no ordinary librarian. While war ravages the city above her, Clara has risked everything she holds dear to turn the Bethnal Green tube station into the country's only underground library. Down here, a secret community thrives with thousands of bunk beds, a nursery, a café, and a theater—offering shelter, solace, and escape from the bombs that fall upon their city.
Along with her glamorous best friend and assistant Ruby Munroe, Clara ensures the library is the beating heart of life underground. But as the war drags on, the women's determination to remain strong in the face of adversity is tested to the limits when it may come at the price of keeping those closest to them alive.
Kate Thompson was born in London and worked as a journalist for women's magazines and national newspapers before becoming a novelist. Over the past ten years, Kate has written twelve fiction and nonfiction titles, three of which have made the Sunday Times top ten bestseller list. She now lives in Sunbury with her husband, two sons, and two rescued Lurcher dogs, Ted and Saphhie.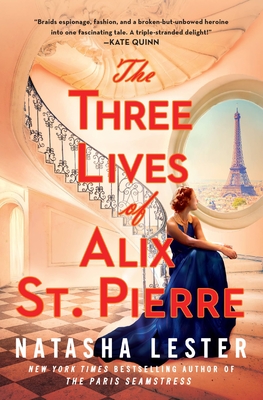 Alix St. Pierre. An unforgettable name for an unforgettable woman. She grew up surrounded by Hollywood glamor, but, as an orphan, never truly felt part of that world. In 1943, with WWII raging and men headed overseas to fight, she lands a publicity job to recruit women into the workforce. Her skills—persuasion, daring, quick-witted under pressure—catch the attention of the U.S. government and she finds herself with an even bigger assignment: sent to Switzerland as a spy. Soon Alix is on the precipice of something big, very big. But how far can she trust her German informant…?
After an Allied victory that didn't come nearly soon enough, Alix moves to Paris, ready to immerse herself in a new position as director of publicity for the yet-to-be-launched House of Dior. In the glamorous halls of the French fashion house, she can nearly forget everything she lost and the dangerous secret she carries. But when a figure from the war reappears and threatens to destroy her future, Alix realizes that only she can right the wrongs of the past …and finally find justice.
Natasha Lester is the New York Times bestselling author of The Paris Seamstress, The Paris Orphan and The Riviera House, and a former marketing executive for L'Oréal. Her novels have been translated into many different languages and are published all around the world.
When she's not writing, she loves collecting vintage fashion (Dior is a favorite!), practicing the art of fashion illustration, learning about fashion history—and traveling to Paris. Natasha lives with her husband and three children in Perth, Western Australia.
Event date:
Thursday, March 9, 2023 - 6:00pm EST

$16.99

ISBN: 9781538724217
Availability: On Our Shelves; Typically Ships in 1 - 2 Days
Published: Forever - February 21st, 2023
---

$28.00

ISBN: 9781538706930
Availability: On Our Shelves; Typically Ships in 1 - 2 Days
Published: Forever - January 10th, 2023
---