Matthew Klam, "Who Is Rich?"
A provocative satire of love, sex, money, and politics that unfolds over four wild days in so-called "paradise"—the long-awaited first novel from the acclaimed author of Sam the Cat.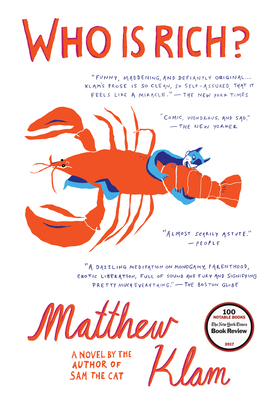 Every summer, a once-sort-of-famous cartoonist named Rich Fischer leaves his wife and two kids behind to teach a class at a weeklong arts conference in a charming New England beachside town. It's a place where, every year, students—nature poets and driftwood sculptors, widowed seniors, teenagers away from home for the first time—show up to study with an esteemed faculty made up of prize-winning playwrights, actors, and historians; drunkards and perverts; members of the cultural elite; unknown nobodies, midlist somebodies, and legitimate stars—a place where drum circles happen on the beach at midnight, clothing optional.
Once more, Rich finds himself, in this seaside paradise, worrying about his family's nights without him and trying not to think about his book, now out of print, or his future as an illustrator at a glossy magazine about to go under, or his back taxes, or the shameless shenanigans of his colleagues at this summer make-out festival. He can't decide whether his own very real desire for love and human contact is going to rescue or destroy him.
A warped and exhilarating tale of love and lust, Who Is Rich? goes far beyond to address deeper questions: of family, monogamy, the intoxicating beauty of children, and the challenging interdependence of two soulful, sensitive creatures in a confusing domestic alliance.
MATTHEW KLAM is the author of the acclaimed short story collection Sam the Cat. He is a recipient of a Guggenheim Fellowship, a PEN/Robert W. Bingham Prize, a Whiting Award, and a National Endowment of the Arts. His writing has been featured in such places as The New Yorker, Harper's, GQ, The New York Times Magazine, The O'Henry Prize Stories, The Best American Nonrequired Reading, and The Ecco Anthology of Contemporary American Short Fiction.
Please register for this FREE event here.
If you're unable to attend the event and would like a signed copy of Who Is Rich?, please purchase the "Signed" version below.
---
Praise for WHO IS RICH?:
"Klam explores excess and penury, conspicuous consumption and tortured artistic production, as well as monogamy and its discontents in an acidly funny portrait of a has-been cartoonist…. The vibrant prose (accompanied by John Cuneo's equally vibrant illustrations) enlivens the proceedings. Libidinous, impulsive, sarcastic, bitter, casually suicidal, and committed to his art—"I'd given up everything for cartooning, and for that alone I deserved to die"—Rich is a worthy addition to American literature's distinguished line of hapless antiheroes."—Publishers Weekly (STARRED REVIEW)
"With a perceptive eye and biting humor, [Rich] skewers the participants at the conference, "an open-air looney bin," including his own students and fellow faculty members. Rich may be a mildly depressed neurotic in the midst of a lengthy midlife crisis, but Klam ensures that he is also a profound, often-hilarious commentator on marriage, child-rearing, and artistic endeavors."—Booklist
"Love, lust, humor, jealousy… [Who Is Rich?] is everything a reader could hope for and more."—Travel + Leisure
"A sharp satire about art, sex, and money."—PopSugar
"Klam's first novel is an irreverent and at times absurdly inappropriate (which makes it all the more hilarious) story that touches on middle life crises, parental love, and what it means to be an artist."—Domino
"With a perceptive eye and biting humor, [Rich] skewers the participants at the conference, "an open-air looney bin," including his own students and fellow faculty members. Rich may be a mildly depressed neurotic in the midst of a lengthy midlife crisis, but Klam ensures that he is also a profound, often-hilarious commentator on marriage, child-rearing, and artistic endeavors."—Booklist
"A tale of middle-aged ennui that gets sharper as it gets funnier."—Kirkus
"What a thrill to experience the fusion of Matthew Klam's fierce, kinetic prose with the mysteries of fatherhood and domesticity. Who Is Rich? is an electric amalgam of frustration and tenderness, wonder and rebellion: a paean to the obliterating power of parental love."—Jennifer Egan
"I just finished Matthew Klam's Who Is Rich? and I seriously, deeply love this book."—Michael Cunningham
"Matthew Klam is a brilliant satirist and keen observer of Unequal America, and his new novel takes a hard look at society's extravagant hypocrisies. His work is thrilling and distinctive–and political in a way that is not always noted because it is also so funny. Who Is Rich? is long-awaited and first-rate."—Lorrie Moore
"Who Is Rich? is a tantalizing novel -- acute and smart and stark, but mostly it's unrelentingly funny about a large number of very inappropriate things. It's one of those rare books: you open it, then you're up all night. I was."—Richard Ford
"It's amazing to wait so long for a book, and for it to be everything you wanted. I loved every page of this book. It got into my bloodstream—and kind of destroyed me."—Curtis Sittenfeld
"By turns fierce, disturbing, and outright hilarious, Who is Rich? is much more than a novel of midlife crisis, it's a frank exploration of what it feels like to struggle as an artist, and a man. Klam writes like a surgeon, with the sharpest of scalpels, and cuts to the bone."—Jonathan Tropper
"I've been eagerly awaiting another book by Matthew Klam—and here it is, and it's a stunner. This, his first novel, is funny, dark, big and bold. I read it straight through, with great pleasure and awe at all he knows about art, money, family, sex, kids, mortality, and shame. Not to be missed."—Meg Wolitzer
Event date:
Tuesday, July 17, 2018 - 5:00pm EDT
Event address:
BookHampton
41 Main Street

$17.00
ISBN: 9780812987539
Availability: Backordered
Published: Random House Trade Paperbacks - July 3rd, 2018
---