Jane Yolen, "Plymouth Rocks"
Join us for a morning of Colonial history as told by Plymouth Rock itself!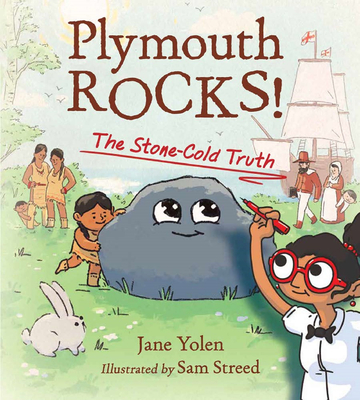 Prolific storyteller Jane Yolen marks the 400th anniversary of the Mayflower's arrival by channeling the voice of Plymouth Rock itself. A funny (and fact-checked!) look at a historical monument.
The history of Plymouth Rock is explained--by the rock itself. Playful, clever verses offer a comprehensive window into the events leading up to the 1620 landing and beyond, dispelling common misconceptions along the way.
Alternating with Rock's poems is a witty analysis of the truthfulness of its statements, told in the voice of the Fact Checker. Truly a book for today's savvy media consumers.
Jane Yolen is the award-winning author of over three hundred children's books including Last Laughs: Prehistoric Epitaphs; Last Laughs: Animal Epitaphs; Bad Girls (with Heidi E. Y. Stemple); Owl Moon, a Caldecott Medal Winner; the How Do Dinosaurs . . . ? series; and Sea Queens. She has been called the Hans Christian Andersen of the Americas.
ORDER A COPY OF Plymouth Rocks! The Stone-Cold Truth AND RECEIVE A SIGNED BOOK PLATE WHILE SUPPLIES LAST.
Event date:
Saturday, September 19, 2020 - 10:30am EDT

$17.99
ISBN: 9781580896856
Availability: Usually Ships in 1-5 Days
Published: Charlesbridge - September 8th, 2020
---
Please consider purchasing a "ticket" to support BookHampton's virtual event series. A "choose your own price" ticket purchase of any amount greatly benefits our programming options.

Your support enables BookHampton to continue providing engaging, informative, and entertaining events for readers of all ages.

We are so grateful for your continued support!
---