Guy Raz, "How I Built This" in Conversation with Roxanne Coady
Join the creator of NPR's hit podcast How I Built This
for stories of business and innovation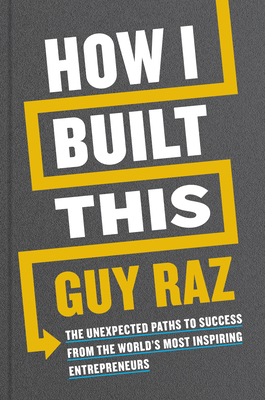 Based on the highly acclaimed NPR podcast, How I Built This with Guy Raz, this book offers priceless insights and inspiration from the world's top entrepreneurs on how to start, launch, and build a successful venture.
Great ideas often come from a simple spark: A soccer player on the New Zealand national team notices all the unused wool his country produces and figures out a way to turn them into shoes (Allbirds). A former Buddhist monk decides the very best way to spread his mindfulness teachings is by launching an app (Headspace). A sandwich cart vendor finds a way to reuse leftover pita bread and turns it into a multimillion-dollar business (Stacy's Pita Chips).
Award-winning journalist and NPR host Guy Raz has interviewed more than 200 highly successful entrepreneurs to uncover amazing true stories like these. In How I Built This, he shares tips for every entrepreneur's journey: from the early days of formulating your idea, to raising money and recruiting employees, to fending off competitors, to finally paying yourself a real salary. This is a must-read for anyone who has ever dreamed of starting their own business or wondered how trailblazing entrepreneurs made their own dreams a reality.
Guy Raz is the creator and host of the popular podcasts How I Built This, Wisdom from the Top and The Rewind on Spotify. He's also the co-creator of the acclaimed podcasts TED Radio Hour and the children's programs Wow in the World and Two Whats?! and a Wow!. He's received the Edward R. Murrow Award, the Daniel Schorr Journalism Prize, the National Headliner Award, and the NABJ Award, among many others and was a Nieman journalism fellow at Harvard. He lives in the Bay Area.
Roxanne J. Coady founded RJ Julia Booksellers in Madison, Connecticut in 1989, creating a business that is recognized as a national leader among independent booksellers. In 2009, Coady founded a personalized book subscription site, Just the Right Book. This site has a national reach and combines the intimacy of an independent bookstore with the digital marketplace. In addition, Coady hosts a weekly podcast available on iTunes, Just the Right Book, in which she interviews best-selling authors and people in the bookselling and publishing community.
Order a copy of How I Built This and receive a signed copy while supplies last.
Event date:
Thursday, September 24, 2020 - 6:00pm EDT

$28.00
ISBN: 9780358216766
Availability: On Our Shelves; Typically Ships in 1 - 2 Days
Published: Houghton Mifflin Harcourt - September 15th, 2020
---
Please consider purchasing a "ticket" to support BookHampton's virtual event series. A "choose your own price" ticket purchase of any amount greatly benefits our programming options.

Your support enables BookHampton to continue providing engaging, informative, and entertaining events for readers of all ages.

We are so grateful for your continued support!
---