BookHampton Presents Fatima Farheen Mirza, "A Place for Us," in conversation with Sarah Jessica Parker Moderated by BookHampton owner Carolyn Brody
INSTANT NEW YORK TIMES BESTSELLER
Vanity Fair: "Ultimate Summer Fiction"
Good Morning, America: "Best Books To Bring To the Beach This Summer"
Glamour.com: "The 17 Best Books to Read This Summer"
Refinery29: "Brilliant Books To Bring To The Beach This Summer"
USA Today: "10 Hot Books For Summer Reading"
EW.com: "This Summer's Debut Authors You Need To Know Right Now"
Buzzfeed: "30 Summer Books To Get Excited About"
PopSugar: "16 Most Exciting New Books To Read In June"
DailyBeast: "Best Summer Beach Reads"
Nylon: "46 Great Books To Read This Summer"
LitHub: "Ultimate Summer Books Preview"
Shondaland: "5 Brilliant New Books to Read in June"
The first novel from Sarah Jessica Parker's new imprint, SJP for Hogarth, A Place for Us is a deeply moving and resonant story of love, identity, and belonging.
"Has a household ever been cradled in such tender attention as this novel provides? She writes with a mercy that encompasses all things. Each time I stole away into this novel, it felt like a privilege to dwell among these people, to fall back under the gentle light of Mirza's words." — RON CHARLES, Washington Post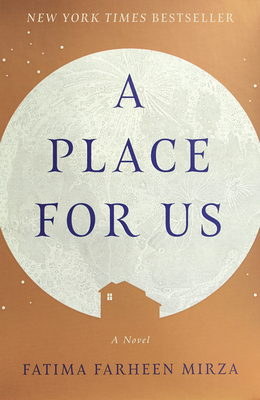 As an Indian wedding gathers a family back together, parents Rafiq and Layla must reckon with the choices their children have made. There is Hadia: their headstrong, eldest daughter, whose marriage is a match of love and not tradition. Huda, the middle child, determined to follow in her sister's footsteps. And lastly, their estranged son, Amar, who returns to the family fold for the first time in three years to take his place as brother of the bride. What secrets and betrayals have caused this close-knit family to fracture? Can Amar find his way back to the people who know and love him best?

A Place for Us takes us back to the beginning of this family's life: from the bonds that bring them together, to the differences that pull them apart. All the joy and struggle of family life is here, from Rafiq and Layla's own arrival in America from India, to the years in which their children—each in their own way—tread between two cultures, seeking to find their place in the world, as well as a path home.
A Place for Us is a book for our times: an astonishingly tender-hearted novel of identity and belonging, and a resonant portrait of what it means to be an American family today. It announces Fatima Farheen Mirza as a major new literary talent.
FATIMA FARHEEN MIRZA was born and raised in the Bay Area, and is a graduate of the Iowa Writers' Workshop, where she was a Teaching-Writing Fellow. She has taught creative writing and fiction courses at the University of Iowa and at the Iowa Young Writers' Studio. Awarded the Michener-Copernicus Fellowship in 2016 and the Chancellor's Award for Excellence in Undergraduate Research/Creative Achievement from the University of California, Riverside, she has also received residencies from the Marble House Project and the MacDowell Colony. She is twenty-seven years old.
Sarah Jessica Parker recently launched SJP for Hogarth in partnership with Molly Stern, Publisher of Crown and Hogarth. In this new role, Parker acquires and curates works of fiction that reflect her own taste as a reader. She is directly involved in the editorial and publishing process for each book issued under her imprint, with her vision providing the editorial foundation for each publication. Parker is the star and executive producer of Divorce, which premiered October 2016 on HBO. She currently serves as a Vice-Chairman of the Board of Directors for the New York City Ballet. In November 2009, the Obama administration elected her to be a member of the President's Committee on the Arts and the Humanities. Parker lives with her husband, three children and lots of books in New York City.
Please note, this event has reached capacity. If you would like to purchase a signed copy of A Place for Us, signed by Fatima Farheen Mirza and Sarah Jessica Parker, please purchase the signed copy below. Thank you for your interest in Bookhampton #BookTalks!
Event date:
Tuesday, August 28, 2018 - 5:00pm EDT
Event address:
East Hampton Library
159 Main Street

$27.00
ISBN: 9781524763558
Availability: Usually Ships in 1-5 Days
Published: SJP for Hogarth - June 12th, 2018
---