Bill Keller, "What's Prison For?" in conversation with David Berg
Bill Keller Answers the Question
What is Prison For?
IN CONVERSATION WITH DAVID BERG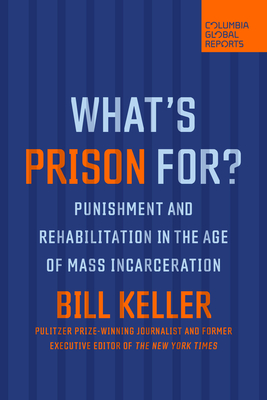 What happens inside our prisons?
What's Prison For? examines the "incarceration" part of "mass incarceration." What happens inside prisons and jails, where nearly two million Americans are held? Bill Keller, one of America's most accomplished journalists, has spent years immersed in the subject. He argues that the most important role of prisons is preparing incarcerated people to be good neighbors and good citizens when they return to society, as the overwhelming majority will.
Keller takes us inside the walls of our prisons, where we meet men and women who have found purpose while in state custody; American corrections officials who have set out to learn from Europe's state-of-the-art prison campuses; a rehab unit within a Pennsylvania prison, dubbed Little Scandinavia, where lifers serve as mentors; a college behind bars in San Quentin; a women's prison that helps imprisoned mothers bond with their children; and Keller's own classroom at Sing Sing.
Surprising in its optimism, What's Prison For? is an indispensable guide on how to improve our prison system, and a powerful argument that the status quo is a shameful waste of human potential.
Bill Keller is founding editor-in-chief of the Marshall Project, an independent nonprofit news organization focused on crime and punishment in the U.S. He previously spent 30 years at the New York Times as a correspondent, editor, and op-ed columnist. As a foreign correspondent, he reported on the collapse of the Soviet Union, winning a Pulitzer Prize in 1989. Following Moscow, he became chief of the Times bureau in Johannesburg, covering the end of white rule in South Africa. During his eight years as executive editor, from 2003 to 2011, the Times won 18 Pulitzer Prizes. He lives in Southampton, New York.
David Berg, regarded as one of America's best trial lawyers, and not just by himself, is the founding partner of Berg & Androphy. He is the author of a mystery/memoir, Run, Brother, Run. He lives in New York and Wainscott.
PLEASE JOIN BILL KELLER IN PERSON AT BOOKHAMPTON
Event date:
Friday, October 7, 2022 - 5:00pm EDT
Event address:
BookHampton
41 Main Street

$16.00

ISBN: 9781735913742
Availability: Usually Ships in 1-5 Days
Published: Columbia Global Reports - October 4th, 2022
---