Andy Baraghani, "The Cook You Want to Be"
Become the Cook You Want to Be
With Andy Baraghani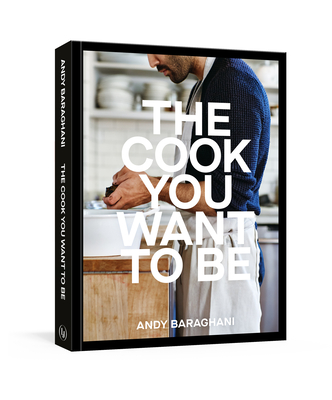 One of Bon Appétit's favorite talents shows you how to define and develop your individual cooking style—and become the cook you want to be—in 120 recipes.
Andy Baraghani learned to cook professionally in such vaunted restaurants as Chez Panisse and Estela, but his love for flavor began with the comforting home dishes of his Iranian parents' immigrant household. Blending the home cooking of his upbringing and his professional training, Baraghani evolved into a culinary influencer by asking himself, "What kind of cook do I want to be?" In answering that question for himself—the cook who can balance flavors and the cook who makes a perfect salad, for example—he became known for trying new techniques, working with easy-to-find but underused ingredients, and creating unexpected combinations.
As the talent behind many of Bon Appetit's viral recipes—favorites like Cauliflower Bolognese, Tahini Ranch, and Ramen Noodles with Miso Pesto—Baraghani creates wow-factor flavors, delivers beautiful and satisfying meals with minimal fuss, and recasts well-known dishes in utterly delicious ways. Among his debut cookbook's 120 recipes for new surefire hits, such as Roasted Beets with Mint and Sesame, Spicy Basil Shrimp with Caramelized Lime, and Pomegranate-Glazed Chicken Legs with Buttery Almonds, home cooks will find dozens of dishes to refresh and expand their weekly repertoire. In essays throughout the book, Baraghani shares convictions (why everyone must make his beloved Persian egg dish, kuku sabzi) and key lessons (the importance of salting fish before cooking it).
Showcasing more than 120 sumptuous photographs and 120 recipes for snacks, eggs, salads, vegetables, grains and legumes, pasta, fish, meat, and desserts, this
cookbook is a trove of transformative techniques and recipes that will guide all to become the kind of cook that they want to be.
Andy Baraghani started his professional cooking career as a teenager at Chez Panisse in Berkeley, California, and the acclaimed New York restaurant Estela. He then worked as a writer and test kitchen cook at Saveur and Tasting Table before joining Bon Appétit as a senior editor. Baraghani played a key role in building Bon Appétit's Healthyish vertical and popularizing the brand's instructional videos on YouTube, including hosting his own series, Andy Explores. As the child of parents who emigrated to California from Iran in 1976, Andy grew up knowing that yogurt should always be within arm's reach.
PLEASE JOIN ANDY BARAGHANI IN PERSON AT BOOKHAMPTON.
SEE YOU SOON!
Event date:
Friday, August 19, 2022 - 5:00pm EDT
Event address:
BookHampton
41 Main Street

$35.00

ISBN: 9781984858566
Availability: On Our Shelves; Typically Ships in 1 - 2 Days
Published: Lorena Jones Books - May 24th, 2022
---